1 Chronicles 20-24: Day 248: Journey Through the Bible in a Year
September 6, 2022
1 Chronicles 20-24
Click here for the reading
Day 248: Journey Through the Bible in a Year
Focus Verses for Today: 1 Chronicles 21:2, 7-26
Seek the Lord's understanding of 1 Chronicles 20-24. Read 1 Chronicles 20-24. Let's journey!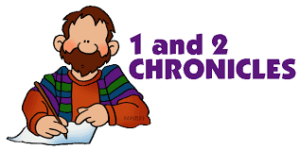 Commentary: David did not compromise to achieve his many victories. Compromise is what led Israel alway from the Lord God and allows sin to flourish. Interestingly, David's sin with Bathsheba is not recorded here, however, his sin in conducting a census is. David was placing his faith in numbers, in men, instead of in the Lord, who had handed him victory after victory on the battlefield. David repented of his sin and acted wisely, choosing to be punished by the Lord instead of men. For David knew that the Lord could be merciful.  David also requested that the people of Israel not be punished, as it was David's sin, not theirs.
God chose the site of the future temple and it is where David offered up his sacrifice to the Lord. It is also the spot where Abraham was willing to sacrifice Isaac. It is not far from the spot where Jesus Christ was offered as a sacrifice for our sins.  The remaining chapters of today's reading focus on preparations for the temple, which was very important to the Lord, however, God was not going to allow David to build His temple. David was not resentful, rather he worked towards accomplishing the goal by stockpiling supplies that would be needed, to ease the burden of the one who would build the temple, his son Solomon.
He also offered some advice to Solomon. David not only organized supplies for the temple, but he also organized the Levites to serve in the temple, including an emphasis on music. Not surprising, considering the number of psalms written by David. The sons of Aaron, the priests, were also arranged to serve in the temple. Their numbers had swelled that it would have been impossible for them all to serve at once. David arranged them into groups. Each would serve for a time, and then another would come and serve. David paid attention to the details.
Focus Verses: 1 Chronicles 21:2, 7-26 – What can you learn from David about repenting? What can you learn from David about accepting responsibility? Do you struggle in either of these areas? What else can you learn from David?
For more information regarding how your financial support can help, please click here.