Titus 1-3: Day 253: Journey Through the Bible in a Year
September 11, 2022
Titus 1-3
Click here for the reading
Day 253: Journey Through the Bible in a Year
Focus Verses for Today: Titus 2:2-10
Ask the Lord for His understanding of Titus 1-3. Read Titus 1-3. Let's journey!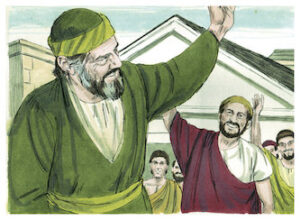 Commentary: Paul begins his letter to Titus by establishing his authority as an apostle. Paul then outlines for Titus the qualifications for officers of the church – deacons, elders, bishops, etc. Paul also warns against false teachers. He exhorts Titus to teach "sound doctrine," doctrine that aligns with the teachings of Jesus Christ, adding or subtracting nothing. Paul addresses several of the common groups of the time, and how each should be taught. Paul reminds us that we are to submit to governing authorities. We are to participate and engage in the world without falling into the sin of the world. Our lives are to be examples for Christ. Those within the church who insist on causing trouble should be cast out from the church. Paul concludes his letter with details of his future plans and several requests for Titus.
Focus Verses: Titus 2:2-10 – Why does Paul advocate for different teaching methods for different groups? Is his advice still applied today? How is it applied in your church?
For more information regarding how your financial support can help, please click here.