What Is In A Name – Advocate
Advocate
My dear children, I write this to you so that you will not sin. But if anybody does sin, we have an advocate with the Father—Jesus Christ, the Righteous One. 2 He is the atoning sacrifice for our sins, and not only for ours but also for the sins of the whole world. (2 John 2:1-2, NIV)
We previously examined the role of Jesus as the ultimate judge. This week, we are looking at Jesus, the Advocate. Advocates speak up on behalf or in defense of a person. Keeping with the legal theme, an advocate is like a defense attorney. Now, you may be wondering, "how can Jesus serve as both advocate and judge?"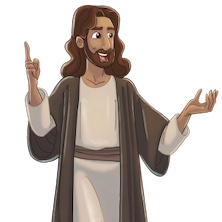 Awesome question! On some subjects, the Bible is not always clear, such as what happens after we die and the exact details of Heaven and the Day of Judgement. As discussed previously, Jesus will judge us for our deeds while on earth. He is the only one qualified for such a position, as He is both man and God. 
However, it appears that God will be the final judge of a person's salvation. In this judgment, if you have accepted Jesus as your Savior, Jesus will stand as your advocate, as your defense. Jesus already paid the ultimate price for sin. He never committed a sin in His life, yet He willingly died, cutting Himself off from His Father, a torture we cannot imagine. His death, His spilled blood, was the ultimate, the perfect, the final sacrifice. Our sin was wiped away with His blood, granting forgiveness to all who choose to accept it. Jesus will stand beside those who have accepted His sacrifice and tell His father that their debt has already been paid, their just punishment fulfilled. Their time has already been served.
So what does this mean for us? Simply this, if we have not accepted Jesus Christ as our Lord and Savior, He will not stand for us before His father. We will not be permitted entrance into Heaven to spend eternity with God. There is nothing, NOTHING, we can do on our own to be granted admittance into heaven. Jesus is the only way. Is Jesus your defense attorney?
For more information regarding how your financial support can help, please click here.