2 Chronicles 11-15: Day 276: Journey Through the Bible in a Year
October 4, 2022
2 Chronicles 11-15
Click here for the reading
Day 276: Journey Through the Bible in a Year
Focus Verses for Today: 2 Chronicles 12:7-11
Take a moment and pray, asking for understanding of today's reading. Read 2 Chronicles 11-15. Let's journey!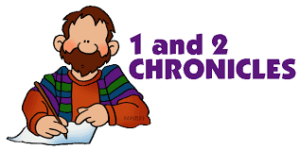 Commentary:  We are continuing with the rule of Rehoboam, who seeks civil war with Israel because they left when he began excessively taxing the people.  Civil war is avoided, through God's intervention, however, the kingdom remains split.  Rehoboam also remained distant from the Lord, ignoring His instructions.  By failing to follow the Lord, Egypt was able to invade, taking some of the wealth from the Lord's temple.  The loss of that wealth, with which Rehoboam grew up, was a great shock, causing Rehoboam to return to the Lord, which spared the nation from total destruction.  Abijah became king after Rehoboam, and like his father, did not walk in the way of the Lord.  Abijah attempted to reunite the two kingdoms but was unable to defeat Jeroboam, King of Israel.  Asa was a very different king from his father Abijah.  Asa was the first king to lead a revival, bringing the people back to the Lord and looking to the Lord during times of trouble. 
Focus Verses:  2 Chronicles 12:7-11 – What do these verses teach you about the Lord and repentance?  Does repenting mean that you will not suffer for your past sins?  Does it mean that you will not face struggles or challenges?  Do you still have to face consequences for your actions?  Why is it better to suffer with the Lord than without Him?
For more information regarding how your financial support can help, please click here.