Acts 9-10: Day 301: Journey Through the Bible in a Year
October 29, 2022
Acts 9-10
Click here for the reading
Day 301: Journey Through the Bible in a Year
Focus Verses for Today: Acts 9:19b-22
Ask the Lord for His understanding of Acts 9-10. Read Acts 9-10. Let's journey!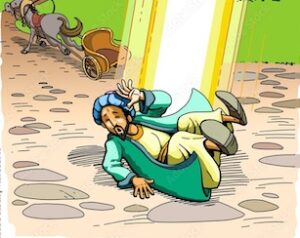 Commentary: Saul, after witnessing the murder of Stephen, requested and received permission to round up disciples – men, women, and children – of the Lord Jesus Christ. While on his way to Damascus to begin his cleansing, Saul encounters the Lord! Saul's conversion leads him to become the man who will greatly influence and help establish the early church. Paul is the first to understand that the Gentiles are not to be excluded from salvation through Jesus Christ. Through Peter and Cornelius, we can understand the importance of opening ourselves up to hearing and acting upon the Lord's instructions. Peter also shows that we do not always have to do everything alone. When the Lord calls us to do something, we can ask for help!
Focus Verses: Acts 9:19b-22 – Why did the Lord choose Saul? How can you relate to Saul, and later Paul? (Yes they are the same person, but their characters are very different).
For more information regarding how your financial support can help, please click here.