1 John 1-3: Day 330: Journey Through the Bible in a Year
November 27, 2022
1 John 1-3
Click here for the reading
Day 330: Journey Through the Bible in a Year
Focus Verses for Today: 1 John 2:15-17
Before reading, stop and pray, asking that the Lord provide understanding of 1 John 1-3. Read 1 John 1-3. Let's journey!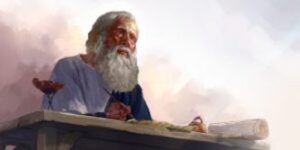 Commentary: The Apostle John was writing to a church in Ephesus to warn against false teachers and to provide reassurance of the truth of Jesus Christ. Jesus is not fiction, He is as real as any of us. Because we know and believe this truth, we must walk in the light, seeking forgiveness for our sins. We are to live as Christ lives, not as the world lives. We should live a pleasing life for the Lord, not out of obligation, but because we want to! Because we love Christ!
Focus Verses: 1 John 2:15-17 – We live in the world. It is easy to fall into the patterns of the world. John warns all Christians against the world and the consequences of choosing the world over serving Christ. Who do you love? Who do you serve?
For more information regarding how your financial support can help, please click here.