Nehemiah 1-4: Day 332: Journey Through the Bible in a Year
November 29, 2022
Nehemiah 1-4
Click here for the reading
Day 332: Journey Through the Bible in a Year
Focus Verses for Today: Nehemiah 4:7-18
Take a moment and pray, asking for understanding of today's reading. Read Nehemiah 1-4. Let's journey!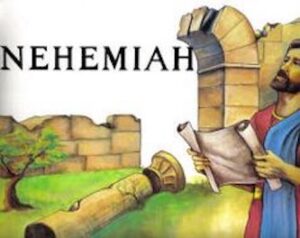 Commentary: Approximately 80 years after the Israelites returned to Jerusalem, the temple had been rebuilt but the city was struggling to survive. Nehemiah came to Jerusalem and instructed the Israelites to rebuild the walls and gates of the city. The Israelites were first ridiculed, and then physically threatened. Nehemiah motivated the people through their faith in the Lord. He was also practical and armed men for attacking, stationing them around the city.
Focus Verses: Nehemiah 4:7-18 – If Nehemiah and the other Israelites had faith in the Lord, why did they arm themselves to ward off the attack? Does faith in the Lord mean we should take no action? Expect the Lord to provide everything for us? Or are we also to be practical?
For more information regarding how your financial support can help, please click here.