Malachi 1-4: Day 335: Journey Through the Bible in a Year
December 2, 2022
Malachi 1-4
Click here for the reading
Day 335: Journey Through the Bible in a Year
Focus Verses for Today: Malachi 4:1-3
Ask the Lord for His understanding of Malachi 1-4. Read Malachi 1-4. Let's journey!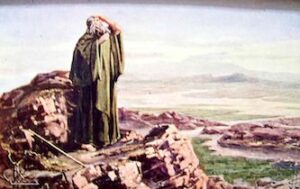 Commentary: Although the final book of the Old Testament, it is not likely the final Old Testament book written. Malachi exhorts priests to not dishonor the Lord and Judah to remain faithful to the Lord, to return and remember the Lord.
Focus Verses: Malachi 4:1-3 – This time has not yet come to pass but when it does, will you be acknowledged as a servant of the Lord? Do you remain faithful or have you allowed the world to corrupt you? It is a daily struggle we all face. What does this passage mean to you?
For more information regarding how your financial support can help, please click here.