Nehemiah 10-13: Day 346: Journey Through the Bible in a Year
December 13, 2022
Nehemiah 10-13
Click here for the reading
Day 346: Journey Through the Bible in a Year
Focus Verses for Today: Nehemiah 12:27-43
Take a moment and pray, asking for understanding of today's reading. Read Nehemiah 10-13. Let's journey!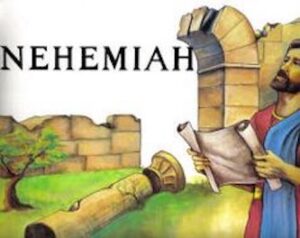 0Commentary: The Israelites once again make a covenant with the Lord, the same covenant made by their ancestors, to keep and uphold the Law. The names of the new residents of Jerusalem are forever remembered in the record. Upon dedicating the wall, the Israelites celebrated joyfully! Unfortunately, the Israelites, once again, did not uphold their covenant with the Lord. After Nehemiah left them, the Israelites quickly reverted to their previous ways, leading to a rather gloomy conclusion. Nehemiah returned to the Israelites to straighten them out. His words are recorded for all to remember.
Focus Verses:  Nehemiah 12:27-43 – Our worship of the Lord does not always need to be serious.  We can simply celebrate our relationship with Him and celebrate what He has done!  Take some time today to smile and celebrate with the Lord!
For more information regarding how your financial support can help, please click here.