What Is In a Name – Immanuel/Emmanuel
Immanuel/Emmanuel
Therefore the Lord himself will give you a sign: The virgin will conceive and give birth to a son, and will call him Immanuel. (Isaiah 7:14, NIV)
22 All this took place to fulfill what the Lord had said through the prophet: 23 "The virgin will conceive and give birth to a son, and they will call him Immanuel" (which means "God with us"). (Matthew 1:22-23, NIV)
Christmas is rapidly approaching. Less than a week to go! We have spent the last four weeks examining the names used to describe Jesus in the prophecy in Isaiah 9:6. Now, we are flipping back a few chapters to Isaiah 7:14, and looking at another name used to describe Jesus: Immanuel.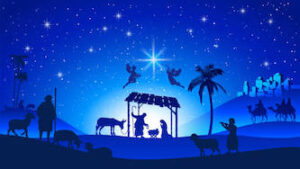 As we learn in Matthew, the name Immanuel, sometimes spelled Emmanuel means "God with us." The difference in the spelling is simply due to different translations. The meaning of the word does not change. Isaiah wrote during a time of turmoil and tribulation. No doubt some were wondering if God had turned His back on Israel. God will never turn His back on His children! He is always there to help us through the difficult times. Jesus is the embodiment of this promise. He is God, walking amongst men. Jesus is Immanuel!
After reading the prophecy in Isaiah, some wonder why Jesus was not named Immanuel, as Isaiah's prophecy seems to indicate. Immanuel was never meant to be Jesus' earthly name. Instead, it was a descriptive name, like so many others in the Old Testament, of who Jesus was and what He was coming to do.
As Immanuel, Jesus came to walk among us, to live as a human, to experience all we experience, to teach God's word to all who would listen and correct the incorrect teachings. Our God willingly left the glories and splendors of heaven to be with us, to know us and our experiences.
So what does this mean for us? God is with us always! He is at our side, ready to help no matter what we are experiencing. He wants to be involved in every aspect of our life. His voice should guide us in all that we do. But in order for that to happen, we must know Him. Are your placing your trust, your faith in Immanuel?
For more information regarding how your financial support can help, please click here.