JOSHUA 11-15: DAY 17, JOURNEY THROUGH THE BIBLE IN A YEAR
January 17, 2023
JOSHUA 11-15
DAY 17 JOURNEY THROUGH THE BIBLE IN A YEAR
Click here for the reading
Focus Verses for Today: Joshua 14:6-15
Today, our journey continues through the book of Joshua. Joshua, through guidance from the Lord, continues to conquer the Promised Land for the Israelites, land which will then be divided in accordance with God's instructions.
Take a moment and pray, asking for understanding of today's reading. Read Joshua 11-15. Let's journey!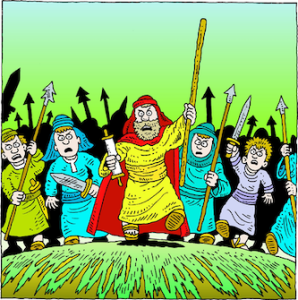 Joshua 11-15: God led Joshua and the Israeli army against the Northern Kings, which had allied to defeat the Israelites. The alliance fails and is completely destroyed in one day. More land needs to be conquered for God's promise to be fulfilled. Joshua is getting old. Joshua is getting tired. God notices! God directs Joshua to divide the land between the 12 tribes of Israel. Joshua was to divide the land conquered and the land that was to be conquered. The conquest wasn't finished! Joshua is considering his mortality. Joshua is considering the unfinished work. Joshua is waiting: Waiting on God! Instructions are given for the division of the conquered and unconquered land. (Joshua 11:1-15:63)
Our focus verses for today:
6 Now the people of Judah approached Joshua at Gilgal, and Caleb son of Jephunneh the Kenizzite said to him, "You know what the Lord said to Moses the man of God at Kadesh Barnea about you and me. 7 I was forty years old when Moses the servant of the Lord sent me from Kadesh Barnea to explore the land. And I brought him back a report according to my convictions, 8 but my fellow Israelites who went up with me made the hearts of the people melt in fear. I, however, followed the Lord my God wholeheartedly. 9So on that day Moses swore to me, 'The land on which your feet have walked will be your inheritance and that of your children forever, because you have followed the Lord my God wholeheartedly.' 10"Now then, just as the Lord promised, he has kept me alive for forty-five years since the time he said this to Moses, while Israel moved about in the wilderness. So here I am today, eighty-five years old! 11I am still as strong today as the day Moses sent me out; I'm just as vigorous to go out to battle now as I was then. 12Now give me this hill country that the Lord promised me that day. You yourself heard then that the Anakites were there and their cities were large and fortified, but, the Lord helping me, I will drive them out just as he said."
13Then Joshua blessed Caleb son of Jephunneh and gave him Hebron as his inheritance. 14So Hebron has belonged to Caleb son of Jephunneh the Kenizzite ever since, because he followed the Lord, the God of Israel, wholeheartedly. 15(Hebron used to be called Kiriath Arba after Arba, who was the greatest man among the Anakites.) (Joshua 14:6-15, NIV)
The focus verse today is about a promise fulfilled. It is a promise made to Caleb, from God, through Moses. Forty-five years earlier, Caleb entered Canaan with eleven other spies, one of whom was Joshua, to scout the area to invade it. Of the twelve spies sent, only two gave good reports to Moses, Caleb, and Joshua. The ten other spies appeared to fear Canaan. They caused such an uproar within the people of Israel that Moses and Aaron were nearly stoned.
What distinguished Caleb, the man whose name means dog, from the ten spies who rebelled against Moses and Arron? Caleb had a relationship with God. Caleb, like Joshua, understood that God provides a supernatural element to the lives of those who trust in Him wholeheartedly. The ten spies who rebelled replaced trust in God with fear of the Canaanites. They allowed fear to limit their ability to join in a wholehearted relationship with God. As you pray, meditate, and reflect, on today's journey take another look at your relationship with God. Do you have one? Is the relationship you have conditional? Is your relationship with God wholehearted?
Godspeace!
For more information regarding how your financial support can help, please click here.