1 SAMUEL 21-25: DAY 101 JOURNEY THROUGH THE BIBLE IN A YEAR
April 11, 2023
1 SAMUEL 21-25
DAY 101 JOURNEY THROUGH THE BIBLE IN A YEAR
Click here for the reading
Focus Verses For Today: 1 Samuel 24:16-22
Our journey today through 1 Samuel 21-25, finds King Saul, the King of Israel, struggling against the will of God. We find the future king, David, struggling with self-will and God's will.
Take some time with God to ask for His perfect understanding of His word as we continue our journey through 1 Samuel today. Read 1 Samuel 21-25. Let's journey!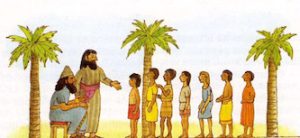 1 Samuel 21-25: Our first four chapters today, contrast David and King Saul. David was trying to serve God, doing so by serving God's anointed, King Saul, and relying on God's direction and strength. King Saul, who knew David was to replace him as king, chose to try to alter the course of events as God determined them. King Saul was jealous of David. David was God's servant pursuing God's will regardless of the personal cost. King Saul was so concerned about himself and his legacy that he had Ahimelek and his clan executed for seeking God on David's behalf. In our final chapter today, we see that David was not perfect, as he did not always seek the Lord before he acted. After David's men were refused provisions by Nabal, David, along with 400 of his men, set out to avenge this injustice by shedding the blood of Nabal and all his men. They were stopped by Nabal's wife who reminded David of who he was and that God is man's avenger. Throughout his life, David shed much blood. The shepherd boy David wasn't perfect, none of us are, but the shepherd boy David was a man after the Lord's heart. (1 Samuel 21:1-25:44)
Our focus verses for today:
16When David finished saying this, Saul asked, "Is that your voice, David my son?" And he wept aloud. 17"You are more righteous than I," he said. "You have treated me well, but I have treated you badly. 18You have just now told me about the good you did to me; the Lord delivered me into your hands, but you did not kill me. 19When a man finds his enemy, does he let him get away unharmed? May the Lord reward you well for the way you treated me today. 20I know that you will surely be king and that the kingdom of Israel will be established in your hands. 21Now swear to me by the Lord that you will not kill off my descendants or wipe out my name from my father's family." 22So David gave his oath to Saul. Then Saul returned home, but David and his men went up to the stronghold.
(1 Samuel 24:16-22)
King Saul knew that by going against David, he was going against God. King Saul had to know that he could not prevail against God. The verses preceding our focus verses share that David had the opportunity to kill Saul. Even at the urging of his men, David refused to kill the anointed of God, King Saul. Put yourself in David's place. What a temptation! This man is trying to kill you. He and his army is pursuing you everywhere. Can you walk away from an improper joke at the water cooler at work? Can you?! The shepherd boy who was to become King of Israel, a man after God's own heart, refused to submit to his men, refused to submit to temptation, this shepherd boy who became King of Israel, David, he submitted, he submitted to the great I AM.
Godspeace!
For more information regarding how your financial support can help, please click here.