EXODUS 9-12: DAY 107 JOURNEY THROUGH THE BIBLE IN A YEAR
April 17, 2023
EXODUS 9-12
DAY 107 JOURNEY THROUGH THE BIBLE IN A YEAR
Click here for the reading
Focus Verses For Today: Exodus 12:29-32
On today's journey through Exodus, we revisit Pharaoh refusing to allow the Israelites to leave Egypt, and God sending another judgment on the Egyptians. It is amazing how far some people will go to challenge God's plan!
Take some time to ask God to give you His understanding of Exodus 9-12. Read Exodus 9-12. Let's journey!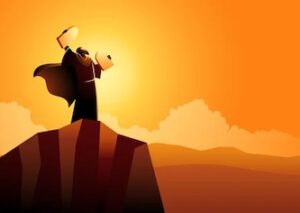 Exodus 9-12: Pharaoh continues to refuse to allow the Israelites to leave Egypt. Each time Pharaoh refuses to allow the Israelites to leave Egypt, God sends a plague on the Egyptians to show them that He, God of Israel, is God. Approaching what will be the final plague, God gives Moses and Aaron instructions regarding the Festival of Unleavened Bread and the Passover meal. The instructions were very detailed and to be followed meticulously. God passed through Egypt killing the firstborn of all humans and livestock, as God had warned Pharaoh would happen if Pharaoh continued to refuse to allow the Israelites to leave Egypt. After the loss of his son, Pharaoh directed the Israelites to leave Egypt. The Exodus had begun. (Exodus 9:1-12:51)
Our focus verses for today:
29 At midnight the Lord struck down all the firstborn in Egypt, from the firstborn of Pharaoh, who sat on the throne, to the firstborn of the prisoner, who was in the dungeon, and the firstborn of all the livestock as well. 30 Pharaoh and all his officials and all the Egyptians got up during the night, and there was loud wailing in Egypt, for there was not a house without someone dead.  31 During the night Pharaoh summoned Moses and Aaron and said, "Up! Leave my people, you and the Israelites! Go, worship the Lord as you have requested. 32 Take your flocks and herds, as you have said, and go. And also bless me." (Exodus 12: 29-32, NIV)
Do you know someone who refuses to change troubling ways until calamity arrives? Pharaoh appears to be that type of person. A person who refuses to consider all the facts that confront him. He may have been a person who just could not discern fact. He was too wrapped up in his gods – gods that approved of his actions. Holy Week has just concluded with Easter, a celebration of Christ's defeat of death! Now is the time to commit to studying the Bible, the true Word of the True God. It is a life-changing decision.
Godspeace!
For more information regarding how your financial support can help, please click here.