JOB 33-34: DAY 117 JOURNEY THROUGH THE BIBLE IN A YEAR
April 27, 2023
JOB 33-34
DAY 117 JOURNEY THROUGH THE BIBLE IN A YEAR
Click here for the reading
Focus Verses For Today: Job 34:16-20
In today's journey through Job 33-34, we learn Elihu's observations and views concerning Job's situation.
Seek God's perfect understanding of Job 33-34. Read Job 33-34. Let's journey!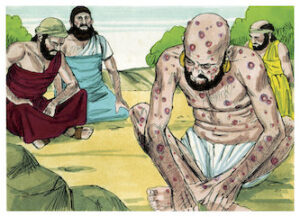 Job 33-34: Elihu begins by summarizing Job's argument to God as he, Elihu, understood it. Job claims to be righteous and God is unjustly punishing him. Elihu, explains to Job that God cannot be unjust and that Job is unrepentant of his sin resulting in Job's situation. (Job 33:1-34:37)
Our focus verses for today:
16 "If you have understanding, hear this;
    listen to what I say.
17 Can someone who hates justice govern?
    Will you condemn the just and mighty One?
18 Is he not the One who says to kings, 'You are worthless,'
    and to nobles, 'You are wicked,'
19 who shows no partiality to princes
    and does not favor the rich over the poor,
    for they are all the work of his hands?
20 They die in an instant, in the middle of the night;
    the people are shaken and they pass away;
    the mighty are removed without human hand.
(Job 34:16-20, NIV)
Elihu appears to understand God's word but finds his evaluation of Job's circumstances in jeopardy because he, Elihu, like Job, does not understand the factual background of what is happening. It is easy to wrongly evaluate a situation when all the facts are not present. Be slow to judge and, if you feel led to offer an opinion, seek God's counsel on how and what your opinion should express.
Godspeace!
For more information regarding how your financial support can help, please click here.