JEREMIAH 22-26: DAY 118 JOURNEY THROUGH THE BIBLE IN A YEAR
April 28, 2023
JEREMIAH 22-26
DAY 118 JOURNEY THROUGH THE BIBLE IN A YEAR
Click here for the reading
Focus Verses For Today: Jeremiah 26:12-15
Our journey through Jeremiah continues with God directing Jeremiah to tell the people of Judah and Jerusalem of God's pending judgment and exile upon them.
Seek God's understanding of Jeremiah 22-26. Read Jeremiah 22-26. Let's journey!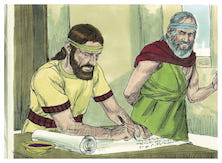 Jeremiah 22-26: Our reading today tells the story of Jeremiah staying steadfast in his faith and obedience to God regardless of the circumstances. Jeremiah announced God's coming judgment on the Kings of Judah because they did not lead the people they governed in His (God's) ways. Jeremiah announced God's coming judgment on the false prophets and the temple leaders because they mislead the people about the true ways of God. For these announcements, Jeremiah is almost killed by the very people he announced God's coming judgment upon. Jeremiah didn't recant. He couldn't. He announced God's word, not his word. Jeremiah stood firm and his life was spared. (Jeremiah 22:1-26:24)
Our focus verses for today:
12 Then Jeremiah said to all the officials and all the people: "The Lord sent me to prophesy against this house and this city all the things you have heard. 13 Now reform your ways and your actions and obey the Lord your God. Then the Lord will relent and not bring the disaster he has pronounced against you. 14 As for me, I am in your hands; do with me whatever you think is good and right. 15 Be assured, however, that if you put me to death, you will bring the guilt of innocent blood on yourselves and on this city and on those who live in it, for in truth the Lord has sent me to you to speak all these words in your hearing."
(Jeremiah 26:12-15, NIV)
What do you love more than God? Have you ever considered this question? The kings and their court, the false prophets, and temple leaders loved doing things contrary to God's instruction. They chose what they preferred to do over God's will. They chose to live a life of sin. Our focus verses reveal that God would not carry out His judgment upon them if they forsook their sinful ways (repentance) and follow His (God's) ways. God gave them an opportunity to avoid His judgment. They rejected God's offer. What do you love more than God? God's offer is available to you.
Godspeace!
For more information regarding how your financial support can help, please click here.