JOB 35-36: DAY 124 JOURNEY THROUGH THE BIBLE IN A YEAR
May 4, 2023
JOB 35-36
DAY 124 JOURNEY THROUGH THE BIBLE IN A YEAR
Click here for the reading
Focus Verses For Today: Job 36:5-12
The book of Job continues with Elihu chastising Job for committing sin which separates him from God earning God's punishment.
Ask God for His understanding of Job 35-36. Read Job 35-36. Let's journey!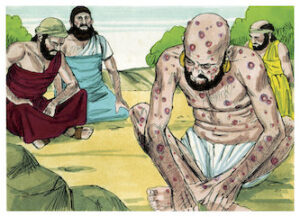 Job 35-36: Elihu's speech to Job reveals that Elihu's understanding of God is not accurate. Elihu tells Job that God is not hurt by Job's sin. Elihu tells Job to repent of his sin so that God will restore Job's life to its former splendor. Elihu appears to believe that those less fortunate are under God's judgment. Elihu doesn't understand God's love for all humankind. (Job 35:1-36:33)
Our focus verses for today:
5 "God is mighty, but despises no one;
    he is mighty, and firm in his purpose.
6 He does not keep the wicked alive
    but gives the afflicted their rights.
7 He does not take his eyes off the righteous;
    he enthrones them with kings
    and exalts them forever.
8 But if people are bound in chains,
    held fast by cords of affliction,
9 he tells them what they have done—
    that they have sinned arrogantly.
10 He makes them listen to correction
    and commands them to repent of their evil.
11 If they obey and serve him,
    they will spend the rest of their days in prosperity
    and their years in contentment.
12 But if they do not listen,
    they will perish by the sword
    and die without knowledge.
(Job 36:5-12, NIV)

What is your view of God? Do you believe the affirmed and afflicted are that way because they have not repented of their sin? Do you believe that the righteous dine with the rulers of the earth? Do you believe that God's salvation is earned through good works? It appears that Elihu did. Since we know the beginning of the story, Job 1:8, and 2:3, where God called Job a righteous man, and, Job 1:13-19, and 2:7, where it is revealed that Satan bringing all this evil on Job, we know that Elihu wasn't receiving messages from God for Job. We know that Elihu was mistaken in his judgment of Job because Elihu didn't really know God. Job never wavered. Job knew God.
Godspeace!
For more information regarding how your financial support can help, please click here.