EXODUS 21-24: DAY 128 JOURNEY THROUGH THE BIBLE IN A YEAR
May 8, 2020
EXODUS 21-24
DAY 128 JOURNEY THROUGH THE BIBLE IN A YEAR
Click here for the reading
Focus Verses For Today: Exodus 24:4b-7
As we continue our journey through the book of Exodus, the Lord was now explaining the implementation and execution of the 10 Commandments to Moses.
Ask the Lord to give you His understanding of Exodus 21-24. Read Exodus 21-24. Let's journey!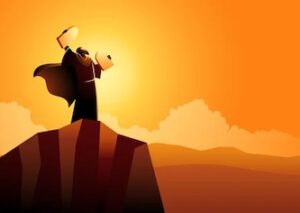 Exodus 21-24: The Lord explains the implementation of the Ten Commandments to daily living. It is an explanation of the legal code and moral code of God. God promises to protect the Israelites on their journey to the land that God has promised them provided the Covenant is kept by them. God reaffirms the Covenant with the Israelites. (Exodus 21:1-24:18)
Our focus verses for today:
He got up early the next morning and built an altar at the foot of the mountain and set up twelve stone pillars representing the twelve tribes of Israel. 5 Then he sent young Israelite men, and they offered burnt offerings and sacrificed young bulls as fellowship offerings to the Lord. 6 Moses took half of the blood and put it in bowls, and the other half he splashed against the altar. 7 Then he took the Book of the Covenant and read it to the people. They responded, "We will do everything the Lord has said; we will obey."
(Exodus 24:4b-7, NIV)
God had Moses clearly explain His Covenant with Israel to the people of Israel. Verse 7 of Chapter 24 has the Israelites crying that they will do everything God has commanded. As you will see as we continue through Exodus the promise of the Israelites was not kept. Have you ever been in a similar situation? Promising to obey the Lord? What was the result?
Godspeace!
For more information regarding how your financial support can help, please click here.