JOB 37-38: DAY 131 JOURNEY THROUGH THE BIBLE IN A YEAR
May 11, 2023
JOB 37-38
DAY 131 JOURNEY THROUGH THE BIBLE IN A YEAR
Click here for the reading
Focus Verses For Today: Job 38:2-3
Our journey continues through the book of Job as Elihu concludes his accusations against Job. God speaks.
Before diving into today's reading, ask God for His understanding of Job 37-38. Read Job 37-38. Let's journey!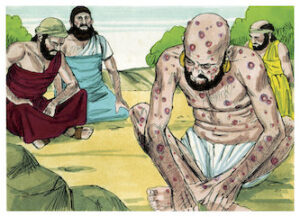 Job 37-38: Job's friend Elihu, concludes his allegations against Job. Elihu contended that Job was receiving God's wrath for sin in Job's life. God then speaks. He asks Job how someone, like Job, without complete knowledge could make a charge or claim against God. God asked Job to explain how God's creation worked: how it was held together. God asked Job if he knew how God provided for the care of all creation. Job could not answer. Job did not know the answer. Then how could Job accuse God of being complicit in Job's current situation? (Job 37:1-38:41)
Our focus verses for today:
2 "Who is this that obscures my plans
with words without knowledge?
3 Brace yourself like a man;
I will question you,
and you shall answer me.
(Job 38:2-3, NIV)
Too often people jump to conclusions without having a full understanding of all the facts. An overlooked fact can change the result of why something happened. God asked Job what do you know? God did not ask Job for his opinion, God asked Job what he knew. How much of your thinking is based on fact? How much of your thinking is based on opinion? The quality of your life, and that of others, is greatly impacted by your answer to that question.
Godspeace!
For more information regarding how your financial support can help, please click here.