JEREMIAH 32-36: DAY 132 JOURNEY THROUGH THE BIBLE IN A YEAR
May 12, 2020
JEREMIAH 32-36
DAY 132 JOURNEY THROUGH THE BIBLE IN A YEAR
Click here for the reading
Focus Verses For Today: Jeremiah 36:21-26
Today, we continue our journey through prophecy, as given to the prophet Jeremiah. Jeremiah remains imprisoned but continues to receive instructions from the Lord. Several instructions from the Lord are issued.
Pray and ask God for His perfect understanding of Jeremiah 32-36. Read Jeremiah 32-36. Let's journey!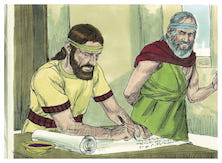 Jeremiah 32-36: Jeremiah remains imprisoned while the Lord continues to speak to him, giving instructions that Jeremiah follows. The Lord also gives Jeremiah a warning of what is to come. Jeremiah revives more than one vision of the future, including a vision of hope and restoration for the future. God's promise will be kept. Jeremiah is given a warning for Zedekiah, king of Judah. The city will be given over to Nebuchadnezzar, king of Babylon. The Lord spoke to Jeremiah about freeing all the slaves. During the reign of Jehoiakim, son of Josiah, who was the king of Judah at this time, Jeremiah receives a vision in which the Rekabites are rewarded for their loyal service to the Lord. King Jehoiakim rejects the warning from the Lord, burning the scroll that the Lord had instructed Jeremiah to write. For rejecting God's word, King Jehoiakim would be punished. (Jeremiah 32:1-36:32)
Our focus verses for today:
21 The king sent Jehudi to get the scroll, and Jehudi brought it from the room of Elishama the secretary and read it to the king and all the officials standing beside him. 22 It was the ninth month and the king was sitting in the winter apartment, with a fire burning in the firepot in front of him. 23 Whenever Jehudi had read three or four columns of the scroll, the king cut them off with a scribe's knife and threw them into the firepot, until the entire scroll was burned in the fire. 24 The king and all his attendants who heard all these words showed no fear, nor did they tear their clothes. 25 Even though Elnathan, Delaiah and Gemariah urged the king not to burn the scroll, he would not listen to them. 26 Instead, the king commanded Jerahmeel, a son of the king, Seraiah son of Azriel and Shelemiah son of Abdeel to arrest Baruch the scribe and Jeremiah the prophet. But the Lord had hidden them.
(Jeremiah 36:21-26, NIV)
Have you ever been given news you did not want to hear? What did you do? Have you ever ignored a problem, hoping it would just go away? Why? It is easy to distract ourselves and ignore what we do not want to hear or see. King Jehoiakim was being told what was coming, yet he refused to listen! God was talking, and he refused to hear Him! What is the Lord saying to you? Are you listening?
Godspeace!
For more information regarding how your financial support can help, please click here.