LUKE 1-2: DAY 133 JOURNEY THROUGH THE BIBLE IN A YEAR
May 13, 2020
LUKE 1-2
DAY 133 JOURNEY THROUGH THE BIBLE IN A YEAR
Click here for the reading
Focus Verse For Today: Luke 1:38
Today, our journey takes us into the Gospel of Luke. During our first foray into this Gospel, we see the larger stage being set for Jesus' ministry. Our journey begins before the birth of Christ, with the arrival of John the Baptist and then the birth of Jesus, before giving us one of the few insights into Jesus' childhood.
As we begin our journey through the Gospel of Luke, pray and ask God for wisdom in reading and understanding. Read Luke 1-2. Let's journey!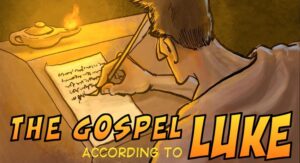 Luke 1-2: Luke begins his Gospel defending his writing, as he did not personally witness any of the events he records. The birth of John the Baptist and the birth of Jesus are both foretold. Their respective mothers, Elizabeth and Mary, get together and celebrate! John's birth is a joyous occasion! The familiar story of the birth of Jesus, often read at Christmas, is then recorded. Luke gives us a rare insight into Jesus' childhood. Jesus knew His Father. He knew His word. (Luke 1:1-2:52)
Our focus verse for today:
38 "I am the Lord's servant," Mary answered. "May your word to me be fulfilled." Then the angel left her.
(Luke 1:38, NIV)
God has given us free will. That means we have a choice! God does not force us to do anything – even serve Him. God made a request of Mary, a request that could have had devastating consequences, a request that probably seemed outrageous. Mary could have said, "no." But she didn't. She trusted the Lord God. She trusted His plan. What is God asking of you? How are you responding? Do you trust God?
Godspeace!
For more information regarding how your financial support can help, please click here.