JOB 39-40: DAY 138 JOURNEY THROUGH THE BIBLE IN A YEAR
May 18, 2023
JOB 39-40
DAY 138 JOURNEY THROUGH THE BIBLE IN A YEAR
Click here for the reading
Focus Verse For Today: Job 40:8
In today's journey through Job 39-40, Job finds himself in a conversation with God. God is demanding Job explain his rebuttals to Bildad, Eliphaz, Zophar, and Elihu.
Take some time to ask God for His true meaning of Job 39-40. Read Job 39-40. Let's journey!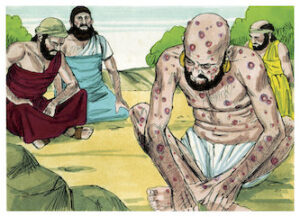 Job 39-40: God continues listing all that He has done, asking Job if he knows anyone who can do the same. In Job 40, God directly asks Job to answer His questions. In verses 3-5, Job could only say he had no answer. God told Job "You shall answer." (Job 40:7, paraphrased) (Job 39:1-40:24)
Our focus verse for today:
"Would you discredit my justice?
    Would you condemn me to justify yourself?
(Job 40:8, NIV)
If you recall, assuming you have been following our journey through Job, Job told his friends, Bildad, Eliphaz, Zophar, and Elihu that if only he could confront God, one on one, he would set the record straight. God is giving Job what he requested and Job cannot speak. God was asking Job two very pointed questions which breakdown to, do you know better than I, God, do? As we reflect back on Job's commentary to his friends, he basically said God must have made a mistake: God can make no mistakes. Because of Job's misunderstanding regarding rewards being based on good works, Job who knew God, did not know God. It appears Job was about to get to know God.
Godspeace!
For more information regarding how your financial support can help, please click here.