JEREMIAH 37-41: DAY 139 JOURNEY THROUGH THE BIBLE IN A YEAR
May 19, 2023
JEREMIAH 37-41
DAY 139 JOURNEY THROUGH THE BIBLE IN A YEAR
Click here for the reading
Focus Verses for Today: Jeremiah 37:6-8
Today, we continue our journey through the book of Jeremiah. Following the Lord is not always easy and those who speak God's word will not always be listened to, nor will their warnings be headed.
Pray for God's understanding of Jeremiah 37-41. Read Jeremiah 37-41. Let's journey!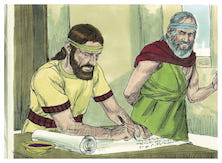 Jeremiah 37-41: Jeremiah's words are ignored by most, and he is imprisoned. Jerusalem falls to the armies of Babylon, led by King Nebuchadnezzar. The officials who had refused to listen to Jeremiah and heed his warnings were tracked down and brutally killed. King Zedekiah was bound and taken to Babylon. King Nebuchadnezzar spared Jeremiah and freed him from the prison in which he was being held. King Nebuchadnezzar allowed some Israelites to remain and work the land. Jeremiah chose to stay with them. Some Jews who had fled also returned to Judah. A rebellion and murder of the Judean governor threatened what little peace was left. (Jeremiah 37:1-41:18)
Our focus verse for today:
6 Then the word of the Lord came to Jeremiah the prophet: 7 "This is what the Lord, the God of Israel, says: Tell the king of Judah, who sent you to inquire of me, 'Pharaoh's army, which has marched out to support you, will go back to its own land, to Egypt. 8 Then the Babylonians will return and attack this city; they will capture it and burn it down.'
(Jeremiah 37:6-8, NIV)
The king of Judah had placed his faith in earthly allies. He was relying upon the Egyptians to save him and his people. As you discovered in today's reading, the king's faith and trust was misguided. Israel fell to the Babylonians. Throughout today's reading, the Lord offered avenues of escape, yet His word was often rejected. Do you listen when God speaks? Do you follow His warnings and directions? What happens when you do? What happens when you don't?
Godspeace!
For more information regarding how your financial support can help, please click here.