JEREMIAH 42-46: DAY 146 JOURNEY THROUGH THE BIBLE IN A YEAR
May 26, 2023
JEREMIAH 42-46
DAY 146 JOURNEY THROUGH THE BIBLE IN A YEAR
Click here for the reading
Focus Verses For Today: Jeremiah 43:2-3
As we continue through the prophetic book of Jeremiah, we find the people of Israel coming to Jeremiah seeking God's mercery and guidance. But….
Ask God for His understanding of Jeremiah 42-46. Read Jeremiah 42-46. Let's journey!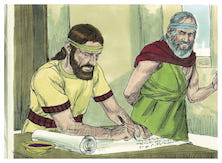 Jeremiah 42-46: The leaders of Israel come to Jeremiah asking him to petition his God on their behalf. He was to ask God to spare the remnant and whatever God declares, good or bad, the people of Israel would accept. God told the remnant to stay in Judah and not go to Egypt or He (God) would destroy them. The people did not like God's response to their petition and rejected it, breaking their word to God through Jeremiah the prophet. (Jeremiah 42:1-46:28)
Our focus verses for today:
2 Azariah son of Hoshaiah and Johanan son of Kareah and all the arrogant men said to Jeremiah, "You are lying! The Lord our God has not sent you to say, 'You must not go to Egypt to settle there.' 3 But Baruch son of Neriah is inciting you against us to hand us over to the Babylonians, so they may kill us or carry us into exile to Babylon."
(Jeremiah 43:2-3, NIV)
God's direction to the remnant was not well received. They flatly refused to obey God's directions and accused Jeremiah of lying to them concerning God's instruction. The leaders of Israel didn't want God's direction – they wanted God's affirmation. It is difficult to go to God seeking a solution to a problem without having a hoped-for response from God. Most likely, God's response will not be the response we are hoping for. God gave the remnant an opportunity at redemption and they rejected it. How do you respond to God's message to you? Will you reject it? Will you redeem it?
Godspeace!
For more information regarding how your financial support can help, please click here.