GALATIANS 1-3: DAY 148 JOURNEY THROUGH THE BIBLE IN A YEAR
May 28, 2023
GALATIANS 1-3
DAY 148 JOURNEY THROUGH THE BIBLE IN A YEAR
Click here for the reading
Focus Verses for Today: Galatians 2:15-16
Today, we begin our journey through the book Galatians. Once again the Apostle Paul is writing to a church that strayed from the true teaching of Jesus. The problems experienced centered on freedom from the customs of legal Judaism and freedom in Christ.
Ask God for His understanding of Galatians 1-3. Read Galatians 1-3. Let's journey!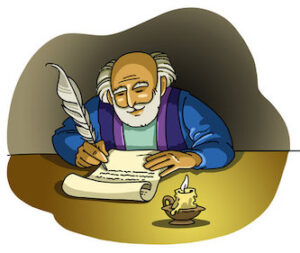 rGalatians 1-3: Paul continues to answer the question, "Is a believer saved by works?" In Galatia, the Jewish and Gentile Christians confronted this question as it related to Jewish ceremonial laws. The simplest example, and the one mentioned by the Apostle Paul, is circumcision. Do Gentiles need to be circumcised to be saved? No! Do Jews need to be circumcised to be saved? No! Are the Jewish customary laws part of the Ten Commandments given by God? No! Keep reading or you will miss the answer. (Galatians 1:1-3:29)
Our focus verses for today:
15 "We who are Jews by birth and not sinful Gentiles 16 know that a person is not justified by the works of the law, but by faith in Jesus Christ. So we, too, have put our faith in Christ Jesus that we may be justified by faith in Christ and not by the works of the law, because by the works of the law no one will be justified.
(Galatians 2:15-16, NIV)
Are you confused? You need not be. Jesus said that He did not come to destroy the law. He came to fulfill the law. (Matthew 5:17) That means He died to pay our sin debt. The Bible says the wages of sin is death. (Romans 6:23) Since no one lives a sin-free life we are all condemned under the law. Jesus did not sacrifice His life so we could continue living in sin and forgo punishment for our sins. He sacrificed His life, overcame death, and rose from the dead, to reign over the world so that all who believe in Him shall have eternal life with Him. As Christians, we are to repent of sinful living and seek to live a righteous life empowered through God. Can you be saved by works? No! Can you be saved by righteous living? No! Can you be saved by righteous living that springs forth from belief in Jesus Christ? Yes! Jesus isn't looking for ritual living. Jesus is looking for a relationship with you that covers your sin in His righteousness making you acceptable before Father God.
Godspeace!
For more information regarding how your financial support can help, please click here.