JEREMIAH 47-52: DAY 153 JOURNEY THROUGH THE BIBLE IN A YEAR
June 2, 2023
JEREMIAH 47-52
DAY 153 JOURNEY THROUGH THE BIBLE IN A YEAR
Click here for the reading
Focus Verses for Today: Jeremiah 50:33-34
Today our journey through the book of Jeremiah concludes. It is the story of God's judgment.
Pray for God's understanding of Jeremiah 47-52. Read Jeremiah 47-52. Let's journey!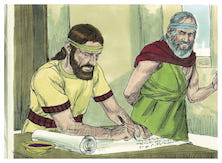 Jeremiah 47-52: In our final journey in Jeremiah, we see God's destruction of Israel's enemies. The Philistines are destroyed. Moab, descendants of Lot, is destroyed. Ammon, also descendants of Lot, is destroyed. Edom, descendants of Esau, is destroyed. Damascus is destroyed. Kedar and Hazor are destroyed. Elam is destroyed. Babylon is destroyed. In our final chapter, Jerusalem is also destroyed. However, the importance of chapter 52, may be the release of King Jehoiachin of Judah, from prison. This act kept the line of King David alive making a way for the remnant to return to Jerusalem. (Jeremiah 47:1-52:34)
Our focus verse for today:
33 This is what the Lord Almighty says:
"The people of Israel are oppressed,
    and the people of Judah as well.
All their captors hold them fast,
    refusing to let them go.
34 Yet their Redeemer is strong;
    the Lord Almighty is his name.
He will vigorously defend their cause
    so that he may bring rest to their land,
    but unrest to those who live in Babylon.
(Jeremiah 50:33-34, NIV)
God is our Redeemer and He made it clear to the Babylonians that He was Israel's and Judah's redeemer. With the Babylonian war machine devouring the world, the captive Israelites must have felt hopeless and abandoned by God. God had not abandoned them! Nor was their situation hopeless, God was preparing the Way to deliver them. Judah and Israel suffered more than a military defeat, they were allowing themselves to be defeated by sin. The Way, The Truth, and The Life was coming to redeem, not only God's chosen people but to be the Light of the world, the Redeemer of the world. Jesus to the rescue!
Godspeace!
For more information regarding how your financial support can help, please click here.