EXODUS 37-40: DAY 156 JOURNEY THROUGH THE BIBLE IN A YEAR
June 5, 2023
EXODUS 37-40
DAY 156 JOURNEY THROUGH THE BIBLE IN A YEAR
Click here for the reading
Focus Verses For Today: Exodus 39:42-43
Today we conclude our journey through the book of Exodus. It appears that the Israelites learned the importance of obedience to God.
Ask God to reveal His meaning of Exodus 37-40 to you. Read Exodus 37-40. Let's journey.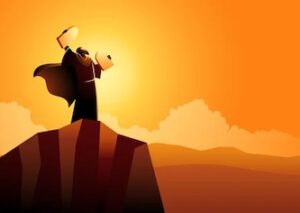 Exodus 37-40: The building is completed for the Tabernacle, the Ark of Covenant, the Altar of Incense, and all the elements to complete the Lord's dwelling place and point of worship for the Israelites. It was constructed precisely as the Lord had directed in material, measurement, and assembly. (Exodus 37:1-40:38)
Our focus verses for today:
42 The Israelites had done all the work just as the Lord had commanded Moses. 43 Moses inspected the work and saw that they had done it just as the Lord had commanded. So Moses blessed them.
(Exodus 39:42-43, NIV)
Obedience is a difficult thing. Perfection is impossible for mere human beings. In this particular instance, the Israelites built God's dwelling and the home of the two stone tablets precisely as God had directed them. Why did they not wait for Moses to return from Mt. Sinai? Why did they resort to the worship of false gods? Although their change of heart prevented them from being eternally doomed; their disobedience to God resulted in punishment for the original group that left Egypt, in that they would not enter the Promised Land with their children. Only Joshua and Caleb who left Egypt were allowed to enter the Promised Land. The distinction is that they believed God, using the Israelites as He chose, would deliver the Promised Land to them. (Numbers 14:20-25) Joshua and Caleb believed in God's promises while the others viewed their circumstances through their own abilities.
Godspeace!
For more information regarding how your financial support can help, please click here.