LAMENTATIONS 1-5: DAY 160 JOURNEY THROUGH THE BIBLE IN A YEAR
June 9, 2023
LAMENTATIONS 1-5
DAY 160 JOURNEY THROUGH THE BIBLE IN A YEAR
Click here for the reading
Focus Verses For Today: Lamentations 5:19-22
Today our journey will take us through all 5 chapters of the book of Lamentations. It is the story of the journey back from destruction.
Pray for God's understanding of the book of Lamentations. Read chapters 1-5 of Lamentations. (The entire book.) Let's journey!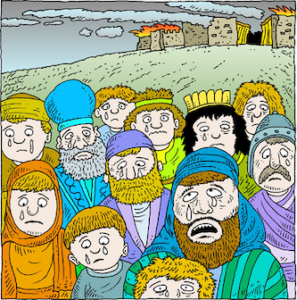 Lamentations 1-5: The first four chapters of the book of Lamentations is a vivid depiction of the destruction that sin brought to Jerusalem and the lament of the remnant whose lives were spared. Sin separates us from God as it did His chosen people. The final chapter continues with the remnant's lament for their situation and concludes with a plea for forgiveness and restoration. (Lamentations 1:1-5:22)
Our focus verse today:
19 You, Lord, reign forever;
    your throne endures from generation to generation.
20  Why do you always forget us?
    Why do you forsake us so long?
21  Restore us to yourself, Lord, that we may return;
    renew our days as of old
22 unless you have utterly rejected us
    and are angry with us beyond measure.
(Lamentations 5:19-22, NIV)
Although mired in despair, the remnant of God's chosen people sought forgiveness for their sins and restoration to a great people again. Just like the people of Jeremiah's time, it is easy for us to stray from a godly life through the temptation of sin. God cannot co-exist with sin. God will not force anyone to follow Him. God allows us to choose to mold our lives through faith in Him or to conform our lives to sinful living. It is 100 percent up to each of us to decide who to follow.
Godspeace!
For more information regarding how your financial support can help, please click here.