LUKE 23-24: DAY 210 JOURNEY THROUGH THE BIBLE IN A YEAR
July 29, 2023
LUKE 23-24
DAY 210 JOURNEY THROUGH THE BIBLE IN A YEAR
Click here for the reading
Focus Verses For Today: Luke 23:44-46
Today we conclude our journey through the book of Luke with chapters 23 and 24. It is the journey to eternal triumph for those willing to accept its truths.
Before beginning today's journey, take some time and pray for understanding of today's reading. Read Luke 23-24. Let's journey!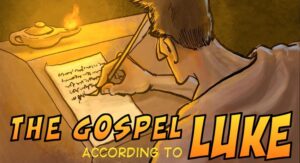 Luke 23-24: Jesus is being handed over to Pilate. Pilate sent Jesus to Herod. Herod returned Jesus to Pilate, for neither the governor of Judea, Pilate, nor the governor of Galilee, Herod, found Jesus guilty of a capital offense. At the demands of the chief priests and fear of resurrection, Pontus Pilate ordered Jesus crucified. Jesus was murdered on the cross. He was buried. He rose from the dead. He visited people on Earth after his resurrection. He gave the eleven disciples instructions on how to carry on after His ascending to Heaven; then, Jesus rose to Heaven. (Luke 23:1-24:53, NIV)
Our focus verses for today:
44 It was now about noon, and darkness came over the whole land until three in the afternoon, 45 for the sun stopped shining. And the curtain of the temple was torn in two. 46 Jesus called out with a loud voice, "Father, into your hands I commit my spirit." When he had said this, he breathed his last.
(Luke 23:44-46, NIV)
These verses are so important because they express two worship events that will carry on until the return of Jesus Christ. The first is the tearing of the temple veil, revealing and granting access to God to everyone. Jew and Gentile alike would have direct access to God, through Jesus. The second is Jesus died, which is the act that was the punishment for all sins of all mankind, past, present, and future. We now have the opportunity to have a personal relationship with God.
Godspeace!
For more information regarding how your financial support can help, please click here.