JOHN 1-2: DAY 217: JOURNEY THROUGH THE BIBLE IN A YEAR
August 5, 2023
JOHN 1-2
DAY 217: JOURNEY THROUGH THE BIBLE IN A YEAR
Click here for the reading
Focus Verse for Today: John 1:1
Today we begin our journey through the book of John. John, unlike the other Gospels, focuses on the deity of Jesus. The book of John is very theological.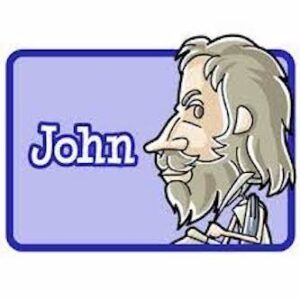 John 1-2: John doesn't start his book at the time of Jesus' birth as God/man, John starts his book with Jesus' presence at and participation in the creation of all things. John will make it clear that Jesus is God, Son, and Holy Spirit, that all three are one with separate functions within the Godhead: the Trinity. That is to come. John distinguished Jesus from John the Baptist, shares Jesus' first miracle – turning water into wine – and clearing the temple of money changers. Re-read John 1-2, and meditate on what is being shared by God through the apostle John with you. (John 1:1-2:25)
Our focus verse for today:
 In the beginning was the Word, and the Word was with God, and the Word was God. (John 1:1, NIV)
It is possible to accept something without incorporating it into how you relate to it. For many: Jesus remains a baby in a manger whose birth we celebrate every year by giving and receiving presents amongst family and friends. Jesus existed before He came to earth as God/man through the miracle that is fixed in time with a manger scene. The truth is that Jesus is eternal and participated in the creation of the world as we know it. He surrendered His heavenly position to become the sacrificial Lamb for all who believe in Him, past, present, and future. Take some time to meditate on Jesus as Savior of the World. The member of the Trinity that surrendered His position to come to earth to live a sinless life, suffering death by crucifixion, shedding His blood to cleanse us of our sin. Jesus defeated death: the penalty for sin. Think of Jesus as the Savior of the world. Accept Jesus as your personal Savior.
Godpeace!
For more information regarding how your financial support can help, please click here.