1 CHRONICLES 25-29: DAY 255 JOURNEY THROUGH THE BIBLE IN A YEAR
September 12, 2023
1 CHRONICLES 25-29
DAY 255 JOURNEY THROUGH THE BIBLE IN A YEAR
Click here for the reading
Focus Verse For Today: 1 Chronicles 29:9
Today's reading concludes our journey through the book of 1 Chronicles. Our journey today takes us through King David's continuing preparations for his son, Solomon, to, ultimately, King David's death.
Ask God for His understanding of 1 Chronicles 25-29. Read 1 Chronicles 25-29. Let's journey!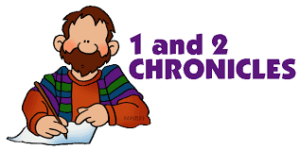 1 Chronicles 25-29: King David continues his preparations for when his son, Solomon, takes over as king. King David knew that Solomon would be the one to build the Temple, and made as many preparations for his son as possible, including establishing the roles of musicians, gatekeepers, treasurers, and other officials. King David also worked to order the military and government to allow for a smooth transition of power. Included in King David's preparations was also the materials for building and decorating the Temple. David would not build the Temple, but he ensured that nothing would be wanting in the building of the Temple. Solomon is anointed and acknowledged as King of Israel, shortly before David's death. (1 Chronicles 25:1-29:30)
Today's focus verse:
The people rejoiced at the willing response of their leaders, for they had given freely and wholeheartedly to the Lord. David the king also rejoiced greatly.
(1 Chronicles 29:9, NIV)
In today's world, many hold onto money tightly. Many revolve their lives around money. But that is the opposite attitude the Bible tells us to have about money. David gave away all his personal wealth for use by his son in the construction of the Temple of the Lord. The people whom David ruled over, rejoiced at his giving. His giving was done freely. It is a trait that has all but been forgotten in today's world; joyful giving, cheerful giving, freely giving. Consider your money habits. Are you honoring the Lord?
Godspeace!
For more information regarding how your financial support can help, please click here.