2 CHRONICLES 21-24: DAY 290 JOURNEY THROUGH THE BIBLE IN A YEAR
October 17, 2023
2 CHRONICLES 21-24
DAY 290 JOURNEY THROUGH THE BIBLE IN A YEAR
Click here for the reading
Focus Verses For Today: 2 Chronicles 22:10-12
Our journey today looks at the death of Jehoshaphat, and the reigns of Jehoram, Ahaziah, and Joash in Judah.
Take a moment and pray, asking for understanding of today's reading. Read 2 Chronicles 21-24. Let's journey!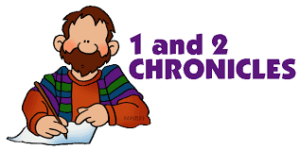 2 Chronicles 21-24: Following the death of Jehoshaphat, Jehoram became king of Judah, by killing his brothers. Jehoram ruled for eight years, leading the people away from the Lord. Jehoram's youngest son Ahaziah succeeded him and followed in his footsteps. Ahaziah only ruled for one year. Ahaziah's mother, devastated at his death, attempted to kill the rest of the royal family. Ahaziah's son, Joash, was secretly taken to the temple of the Lord and raised there. With the support of the temple priest and the military, Joash was revealed as alive and made king. For many years, Joash sought after the Lord and repaired the temple. Eventually, Joash was led astray and led Judah with him. Our reading concludes with Joash's death. (2 Chronicles 21:1-24:27)
Our focus verses for today:
10 When Athaliah the mother of Ahaziah saw that her son was dead, she proceeded to destroy the whole royal family of the house of Judah. 11 But Jehosheba, the daughter of King Jehoram, took Joash son of Ahaziah and stole him away from among the royal princes who were about to be murdered and put him and his nurse in a bedroom. Because Jehosheba, the daughter of King Jehoram and wife of the priest Jehoiada, was Ahaziah's sister, she hid the child from Athaliah so she could not kill him. 12 He remained hidden with them at the temple of God for six years while Athaliah ruled the land.
(2 Chronicles 22:10-12, NIV)
The Lord has promised David that his descendants would forever sit on the throne and rule over Israel. The Lord always keeps His promises. In this passage, David's descendants were nearly wiped out. One brave woman ensured that David's line would continue. The Lord put her in the right place, at the right time, and gave her the courage to do what needed to be done. Is the Lord trying to work through you? Is He calling upon you? Listen! Act!
Godspeace!
For more information regarding how your financial support can help, please click here.