JAMES 1-3: DAY 295 JOURNEY THROUGH THE BIBLE IN A YEAR
October 22, 2023
JAMES 1-3
DAY 295 JOURNEY THROUGH THE BIBLE IN A YEAR
Click here for the reading
Focus Verses For Today: James 2:20-24
Today, we begin our journey through the book of James. James was likely written by James, the brother of Jesus, who did not initially believe in Jesus as the Son of God. Yet, we know that later, James became an established leader among the early church. This letter was written to Jewish Christians and addresses specific issues that they were facing.
Before reading, stop and pray, asking that the Lord provide understanding of James 1-3. Read James 1-3. Let's journey!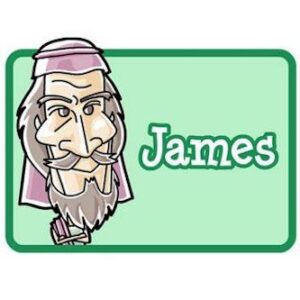 James 1-3: James does not waste time on getting down to business! After a short greeting, he instructs on trials and temptations, their purpose, and how we are to handle them. He writes about the importance of listening and describes how favoritism is hurtful. He addresses the complex topic of how deeds relate to faith. Finally, he addresses the difficulties of being a teacher and mastering the tongue. (James 1:1-3:18)
Our focus verses for today:
20 You foolish person, do you want evidence that faith without deeds is useless? 21 Was not our father Abraham considered righteous for what he did when he offered his son Isaac on the altar? 22 You see that his faith and his actions were working together, and his faith was made complete by what he did. 23 And the scripture was fulfilled that says, "Abraham believed God, and it was credited to him as righteousness," and he was called God's friend. 24 You see that a person is considered righteous by what they do and not by faith alone.
(James 2:20-24, NIV)
James is not advocating salvation through works, as some view this passage. Rather, he is saying that a person full of faith cannot help but show it by their actions. A person who wholeheartedly has accepted Jesus as their Lord and Savior does not tuck it away, only bringing it out on Sunday mornings. It is a part of their everyday life, a part they cannot help but show. Faith and deeds are not separate from one another. Examine your own life. How is your faith? Does it show?
Godspeace!
For more information regarding how your financial support can help, please click here.