ACTS 13-14: DAY 315 JOURNEY THROUGH THE BIBLE IN A YEAR
November 11, 2023
ACTS 13-14
DAY 315 JOURNEY THROUGH THE BIBLE IN A YEAR
Click here for the reading
Focus Verses For Today: Acts 14:21-23
Today, we continue our journey through the book of Acts by looking at the ministry of Saul (Paul) and Barnabas.
Ask the Lord for His understanding of Acts 13-14. Read Acts 13-14. Let's journey!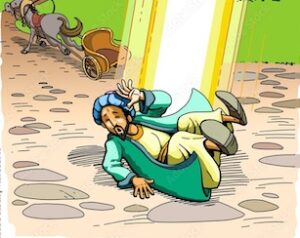 Acts 13-14: Before setting off on their journey Barnabas and Saul are prayed over. They go to Cyprus where Paul rebukes a sorcerer. Paul speaks in a synagogue in Pisidian Antioch, reminding the Israelites of their history, showing that Jesus was the fulfillment of all the Lord had promised them. Not all Jews were happy with the inclusion of the Gentiles. Paul and Barnabas continued their journey, traveling to Iconium, where they had to flee before being killed. Not all were willing to accept Paul's message. Paul and Barnabas are hailed as gods after healing a man in Lystra, however, the crowds turn on them and attempt to kill them. Paul and Barnabas return to cities already visited in order to strengthen and encourage the believers there. (Acts 13:1-14:28)
Our focus verses for today:
21 They preached the gospel in that city and won a large number of disciples. Then they returned to Lystra, Iconium and Antioch, 22 strengthening the disciples and encouraging them to remain true to the faith. "We must go through many hardships to enter the kingdom of God," they said. 23 Paul and Barnabas appointed elders for them in each church and, with prayer and fasting, committed them to the Lord, in whom they had put their trust.
(Acts 14:21-23, NIV)
In the early church, new believers did not have the Bible to turn to, as we do today. Paul recognized the struggles new believers faced and returned to cities to help strengthen and encourage new believers. It is a timeless lesson. We may have the Bible today, but new believers – and old! – still need encouragement. There are always times when we can become blind to a sin and need someone to point it out to us. Churches, as well as individuals, need to continue to provide and receive nourishment. Where do you receive spiritual nourishment in your life? How do you provide spiritual nourishment for others?
Godspeace!
For more information regarding how your financial support can help, please click here.