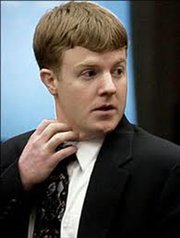 Justin Michael Wolfe was just 21 years of age, when he was sent to death row in Virginia for arranging the murder of fellow drug dealer, 21-year-old Daniel Robert Petrole.  After years of appeals, claims of innocence, confessions of guilt, recantations of testimonies, recantations of the recantations, and allegations of prosecutorial misconduct, Justin was granted a new trial.  Justin has now been sentenced to 41 years in prison, but will serves just 26, with 15 credited for time already served.
On March 15, 2001, Daniel "Danny" Petrole, the leader of a high grade marijuana drug ring, was murdered in Fairfax, Virginia.  Justin, a drug dealer who worked for Danny and owed him over $60,000, left town two days later, ostensibly to avoid questions about the drug ring the police uncovered with Danny's death.  Police claim he left town to avoid murder charges.  Justin eventually turned himself into the police, in the hopes of convincing them he had nothing to do with the murder.
Police also arrested a third drug dealer, and a former Chantilly High School student with Justin, Owen Merton Barber IV.  Owen confessed to the murder, saying he killed Danny on Justin's orders.  Owen agreed to testify against Justin.  In exchange, Owen would not receive the death penalty.  Owen received a lengthy prison sentence, while Justin continued to proclaim that he had nothing to do with Danny's murder.
In December of 2005, Justin's claims of innocence seemed to gain traction; Owen recanted his testimony.  In a 13-page affidavit, Owen claims that Justin had no part in Danny's murder.  Four month's later, Owen recanted his recantation, sending a letter to the defense team, claiming that Justin ordered Danny's murder.  He repeated this claim several times over the next few years.  However, in 2010, Owen testified in federal court that Justin had nothing to do with Danny's murder.  He also claims that he felt forced to testify against Justin or the prosecutor were going to sentence him to death.
Also in 2010, Justin's lawyers argued that evidence had been withheld by the prosecution prior to his original trial.  The US Eastern District Court granted a new evidentiary hearing, which led to US District Court Judge Raymond A. Jackson vacating Justin's death sentence.  The state appealed that decision.  After losing the appeal, the state chose to retry Justin.  After numerous delays and appeals, Justin accepted a plea deal that would prevent him from once again being sentenced to death.  As part of the deal, Justin pled guilty and, in a handwritten confession, admitted to conspiring with Owen to murder Danny.  He was then sentenced to 41 years in prison, but will only serve 26 years, with 15 years credited for time already served.
Please pray for peace and healing for the family of the Danny.  Please pray for strength for Justin and his family.