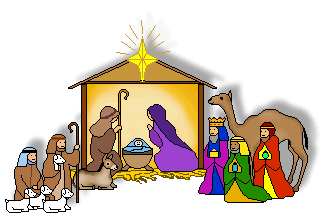 Christmas Greetings from 
The Forgiveness Foundation 
Christian Ministries
Christmas Day 2017 is here! Christians throughout the World are celebrating the birth of the Messiah - Jesus The Christ - their Lord and Savior! Christians assemble to worship Jesus through song, prayer, and word. Christmas is the time of year when families gather to share their time, gifts, and renew their love for one another. Some Christians celebrate Christmas through sharing their talent, gifts, and love with others less fortunate. Christmas is a time of joy! Christmas is a time of renewal! Christmas is a time of worship! Christmas is a time of thanksgiving! 
Our greeting would not be complete without a Christmas message. Today's Bible passage is not a conventional Christmas passage but it expresses the "Spirit of Christmas" quite well. 
One of the religion scholars came up (to Jesus). Hearing the lively exchange of question and answer and seeing how sharp Jesus was in his answers, he put in his question: "Which is most important of all the commandments?" Jesus said, "The first in importance is, 'Listen Israel: The Lord your God is one; so love the lord God with all your passion and prayer and intelligence and energy.' And here is the second; Love others as well as love yourself.'  There is no other commandment that ranks with these."  (Mark 12:28-31, MSG*) 
In just seven days a new year begins, let's resolve today, let's begin today, to live the words expressed by our Lord and Savior Jesus Christ seeking Him and His will for our livers with every fiber of our being while loving our neighbors as we love ourselves and Jesus loves us.                                                                                          
We at The Forgiveness Foundation Christian Ministries take this time to wish you and yours a very Blessed Christmas.  
Godspeace!
*MSG is short for The Message Bible.  The Message is translated directly from Greek, not other English translations, however, it includes many common phrases, rhythms, and idioms found in the English language today as a way to help the readers better connect and understand The Message written.