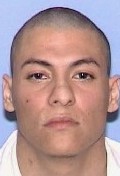 Martin Robles was executed by the state of Texas on August 10, 2011.  Martin was pronounced dead at 6:21 pm CDT, inside the Walls Unit execution chamber at the Huntsville State Penitentiary in Huntsville, Texas.  Martin was 33 years of age.  He was executed for the murder of rival gang members 19-year-old John Commisky and 19-year-old Jesus Omar Gonzalez on November 12, 2002, in Corpus Christi, Texas.  Martin spent the last 8 years of his life on Texas' death row.
Martin worked as a bus boy and laborer prior to his arrest.  Martin dropped out of school after the 8th grade and had previously served time for murder.  At the age of 10, Martin began using marijuana and inhalants, moving on to mushrooms and acid at the age of 14, and cocaine at the age of 15.  Martin was also an alcoholic.  Also at the age of 14, Martin joined the Clyde Crew gang, which participated in car-jackings and running drugs.  Martin had been placed in several juvenile facilities as a child.
Please pray for peace and healing for the families of John Commisky and Jesus Omar Gonzalez.