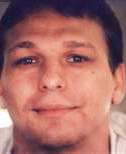 Bobby Lee Hines was executed by the state of Texas on October 25, 2012.  Bobby was pronounced dead at 6:28 pm CDT, inside the Walls Unit execution chamber at the Huntsville State Penitentiary in Huntsville, Texas.  Bobby was 40 years of age.  He was convicted of murdering and robbing 26-year-old Michelle Wendy Haupt on October 20, 1991, inside of Michelle's apartment in Carrollton, Texas.
As a child, Bobby was abused by his father.  As a minor, Bobby was arrested for burglary and sent to boot camp.  Prior to his arrest, Bobby worked as a laborer.
Please pray for peace and healing for the family of Michelle Haupt.  Please pray for peace for the family of Bobby.