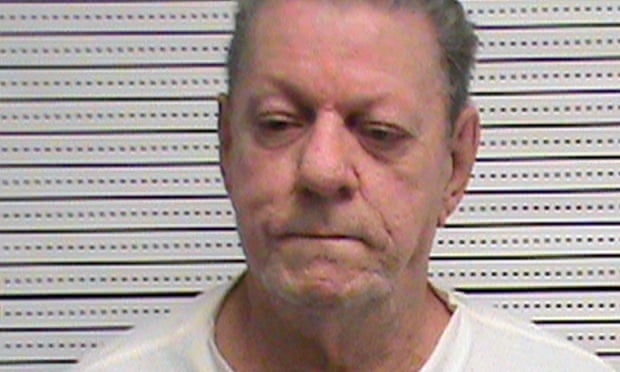 March 17, 2015
Cecil Clayton was executed and pronounced dead at 9:21 pm CDT, on Tuesday, March 17, 2015, at the Eastern Reception, Diagnostic and Corrections Center in Bonne Terre, Missouri.  Cecil was 74 years of age.  He was convicted of murdering Barry County Sheriff's Deputy Christopher Castetter, on November 27, 1996, in Jasper County, Missouri.  He spent the last 16 years of his life on Missouri's death row.
Cecil had previously been arrested for assault and served time.  During his time in jail, Cecil alleges that he converted to Christianity.  His devotion continued after his release, as he stopped drinking, began attending church, singing and speaking in church, and becoming a part-time pastor and traveling evangelist with his wife and children.  In 1972, Cecil was involved in a sawmill accident, which resulted in a piece of wood being embedded in skull.  Cecil could no longer work in lumber but attempted to find employment, including a brief stint as a police officer.  At the time of his arrest, he was wearing social security disability and performing various odd jobs.  He had also stopped traveling and preaching, and began drinking again, divorced his wife, and became hot tempered and violent.
Cecil Clayton and Martha Bell had been in a relationship for some time, although by November 27, 1996, their relationship was nearly over.  Martha asked Clayton to meet her at a store and give her some important papers she had left at his home.  While at the store, Clayton and Martha began arguing.  A store employee called the police, who spoke to Clayton and then lingered until he left.
Clayton eventually left the store, driving to the home a friend, Martin.  He became angry when Martin would not go on a drive with him.  Clayton then left.
Martha originally asked the police to drive her to her mother's home but later changed her mind and went to stay with a friend.  Martha called her mother, Dixie, and informed her of the situation.  
Shortly after Martha called Dixie, Dixie noticed a truck with lights across the top of the cab, in her driveway.  Dixie called Martha and confirmed it was Clayton's truck.  She then called the Barry County sheriff's department and informed them that Clayton was on her property and unwelcome.  Deputy Christopher Castetter was dispatched to scene.  He arrived and checked in at 10:03 pm.
Two other deputies arrived at the scene to assist at approximately 10:06 pm.  They found Deputy Castetter's patrol car sitting at an angle against a tree in the driveway.  The engine was still running at a high rate and the tires were spinning and smoking.  Deputy Castetter was leaned over in his seat, with his seatbelt off, weapon snapped in the holster, and window cracked about an inch.  His flashlight was not in its cradle.  He was bleeding heavily from a gunshot wound to the head.  He was taken to the hospital where he later died.
Clayton again met up with his friend Martin around 10:15 pm.  He asked Martin, "would you believe me, if I told you that I shot a policeman, would you believe me?"  Clayton described to Martin how he shot the officer, who hit the gas and ran into a tree.  Clayton was arrested later that night, as the description of his truck was recognized by the officer who spoke with him at the store earlier that day.
Cecil Clayton was sentenced to death on December 8, 1997.
Please pray for peace and healing for the family of Christopher Castetter.  Please pray for strength for the family of Cecil.