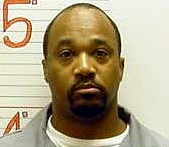 Andre Cole was executed by the state of Missouri on Tuesday, April 14, 2015.  Andre was pronounced dead at 10:24 pm CDT, inside the execution chamber at the Eastern Reception, Diagnostic and Corrections Center in Bonne Terre, Missouri.  Andre was 52 years of age.  He was executed for the murder of Anthony Curtis, which occurred on August 21, 1998, in St. Louis County, Missouri.  Andre spent the last 14 years of his life on Missouri's death row.
Growing up, Andre participated in cub scouts, attended church with his family, and enjoyed bowling, shopping, and going places with friends.  Andre was also described as a hard worker.  Andre was employed at the St. Louis Zoo at the time of the murder.   Andre's family testified that he was loving and reliable.  Andre had previously been convicted on two felony counts for unlawful use of weapon.  He also had misdemeanor convictions for failure to return to confinement and violation of an order of protection.
Andre and Terri Cole divorced in the spring of 1995, after having two children together.  Over the next two years, the couple would attempt to rekindle their relationship and work out their problems, however, they were never successful.  By July of 1998, Terri had stopped seeing Andre and had begun a relationship with Anthony Curtis.  Andre had also moved on and was seeing someone new.  At the end of July, after hearing that Andre was seeing someone and planning to attempt to gain custody of their children, Terri changed her phone number and refused to give it to Andre.
As part of their divorce, Andre was required to pay child support, $320 a month.  Andre fell behind in payments during the summer of 1998, and was issued a wage withholding order.  This had previously happened to Andre, however, coworkers heard Andre saying, "Before I give her another dime I'll kill the [expletive deleted]."  Andre's first paycheck with a wage deduction was received on August 21, 1998.
Prior to that date, Andre had attempted to contact Terri and his children several times.  He would often show up at her home during the day and night, ringing the doorbell and knocking on the door.
On the evening of August 21, 1998, Terri and the man she was seeing, Anthony, were enjoying a night in, watching movies and eating, while the children were out.  While they were watching a movie, they heard a crash from the dining room.  Andre had broken the glass sliding door.  Andre began yelling and cursing at Terri, wanting to know why she was doing this and that he knew she loved him.  
Anthony opened the front door and told Andre to leave.  Andre attacked Anthony with a knife, stabbing him several times, inflicting several lethal wounds.  Andre then attacked Terri, stabbing her several times.  Anthony did not survive his injuries.  Terri required extensive rehabilitation, but survived.
Andre went on the run, staying with a relative in Tennessee.  He turned himself into the police on September 23, 1998.  Andre claims that he is innocent of the crime for which he was convicted.  Andre claims that Anthony advanced towards him with the knife.  Terri was injured attempting to stop Anthony.  Andre also alleged that Terri killed Anthony during their fight.  Andre attempted to help Terri, but she insisted that he leave.  Andre said he did not call the police that night as he was afraid he would be set up and accused.
Terri testified that she did not return to her home until after Andre was arrested because she was afraid he would come after her.  Andre was convicted and sentenced to death on March 9, 2001.
Please pray for peace and healing for the family of Anthony Curtis.  Please pray for peace and healing for Terri and her family.  Pray for strength for the family of Andre.