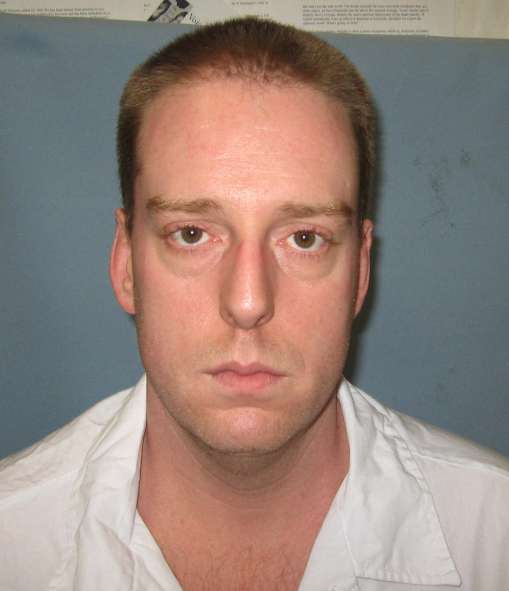 December 9, 2016
Ronald Bert Smith, Jr., was executed by the state of Texas on Thursday, December 8, 2016.  Ronald was pronounced dead at 11:05 pm CST, inside the execution chamber at the Holeman Correctional Facility in Attmore, Alabama.  His execution was delayed several hours due to appeals.  Ronald was 44 years of age.  He was executed for the murder of Casey Wilson on November 8, 1994, in Madison County, Alabama.  Ronald spent the last 21 years of his life on Alabama's death row.
Ronald grew up attending a Methodist Church, participating in youth activities.  He was also an accomplished Boy Scout and was described as a "quiet, polite, respectful…gentle young man"  at his trial.  Ronald graduated from high school as a member of the National Honor Society and was offered (but did not accept) a three-year Naval ROTC scholarship to Auburn University.  Ronald began drinking heavily in college and skipping classes, ultimately causing him to withdraw before the end of his first year.  Ronald did not have a prior criminal record, although he had, at least twice, been involved in a fight at a nude nightclub.
During the early morning hours of November 8, 1994, Ronald Smith, Jay Zuercher, and Chad Roundtree were driving around when they decided to rob a local convenience store, the Circle C, in Huntsville, Alabama.  After parking the vehicle, Zuercher and Roundtree remained in the vehicle, while Smith entered the store.  The only other person in the store was the clerk, Casey Wilson.
According to surveillance tapes, Smith pointed a gun at Casey, telling him to open the register.  When Casey was unable to open the register, Smith forced Casey into the restroom, pistol-whipping him and shooting him in the left arm.  Smith left Casey in the restroom and attempted to force the register open.  Smith was unsuccessful.
Smith then turned his attention to the safe, which was under the counter.  Smith was able to manipulate the combination lock on the safe and open it.  Smith returned to the restroom and shot Casey in the back of the head, killing him.  Smith then collected his spent shell casings.  
At some point, Zuercher also entered the store, stealing a pack of cigarettes.  Both men then left the store.  Before they drove away, someone remembered that the store contained video surveillance.  Smith returned to the store twice to attempt to destroy the videos, before taking the recorder and tape with him.
Smith was convicted on August 5, 1995.  A jury recommend by a vote of 7-5 that Smith be sentenced to life without parole.  A judge overrode the jury, sentencing Smith to death on October 6, 1995.  Zuercher received a sentence of life in prison, with parole possible after 10 years.  Roundtree, after accepting a reduced charge in exchange for his testimony, received a 20-year sentence with parole possible after 10 years.
Please pray for peace and healing for the family of Ronald Smith.  Please pray for strength for the family of Ronald.