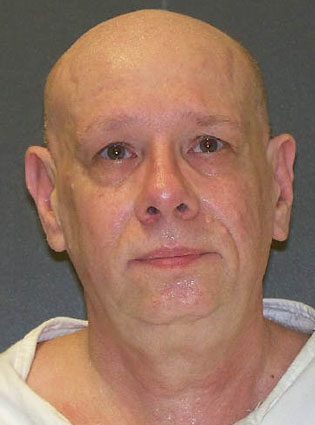 March 14, 2017
James Eugene Bigby was executed by the state of Texas on Tuesday, March 14, 2017.  James was pronounced dead sometime at 6:31 pm CDT, inside the Walls Unit execution chamber at the Huntsville State Penitentiary in Huntsville, Texas.  James was 61 years of age.  He was executed for the murder of 26-year-old Michael Trekell, Michael's 4-month-old son Jayson Kehler, Calvin Wesley Crane, and Frank "Bubba" Johnson, on December 23-24, 1987, in Tarrant County, Texas.  James spent the last 25 years of his life on Texas' death row
James had a difficult upbringing.  His mother allegedly drank while pregnant with him and breastfed him until the age of seven.  James' mother also gave away his siblings to be raised by other relatives.  He grew up fearing that his mother would abandon him, as his father had.  Additionally, his mother and siblings all suffer from mental health issues and have struggled to live successful lives.  James had previously been hospitalized multiple times for schizo-affective disorder and depression.  He had also received electroshock therapy during one of his stays.  James had previously been arrested and served time for various robberies and a sexual assault charge.  James dropped out of school following the ninth grade and worked at Frito-Lay prior to his arrest as an auto mechanic.
In late December 1987, James Bigby had a pending worker's compensation claim against his employer, Frito-Lay.  Bigby was paranoid that several of his friends were conspiring against him to thwart his claim.  On December 23, 1987, Bigby bought two steaks and took them to the home of his friend, Michael Trekell, who also had a four-month-old son, Jayson, in Fort Worth, Texas.  While Michael prepared the steaks, Bigby shot and killed him.  Bigby then drowned Jayson in the sink.
Bigby left the murder scene and drove to the apartment of his friend Calvin Crane.  Bigby and Calvin talked for a short time before Bigby asked Calvin to drive him to the store.  Calvin agreed and on the way back from the store, Bigby forced Clavin, at gunpoint, to pull over and get out of the truck.  Bigby shot Calvin in the head, killing him.  Bigby left Calvin's body along side the road and drove the truck back to Calvin's apartment, retrieved several items from his car, and left again in Calvin's truck.
Bigby then drove to Arlington, Texas, and arrived at the home of Frank "Bubba" Johnson, around 3:20 am on December 24, 1987.  Bigby rang to doorbell and Bubba answered.  After a short discussion, Bigby shot Bubba three times, killing him.  Bigby fled the scene in Calvin's truck.
A massive manhunt ensued, and Bigby was arrested on December 26, 1987, after a stand-off at a local motel.  A police negotiator had to be called in to talk to Bigby and get him to surrender.  While talking to the negotiator, Bigby confessed to the murders.  He also later gave a written confession, after being arrested by police.
During Bigby's 1991 trial, Bigby seized a loaded revolver from the judge's bench during a recess.  Bigby walked into the judge's chamber and pointed the gun at the judge saying, "Let's go, Judge."  The judge was quickly able to disarm Bigby and he was subdued.  Bigby's lawyers attempted to have the judge removed from the case and a mistrial declared, but they were unsuccessful.  Bigby's lawyers attempted to mount an insanity defense for Bigby, but they were unsuccessful.  The jury found Bigby guilty and he was sentenced to death.
Please pray for peace and healing for the families of the Michael Trekell, Jayson Kehler, Calvin Crane, and Frank Johnson.  Please pray for strength for the family of James Bigby.