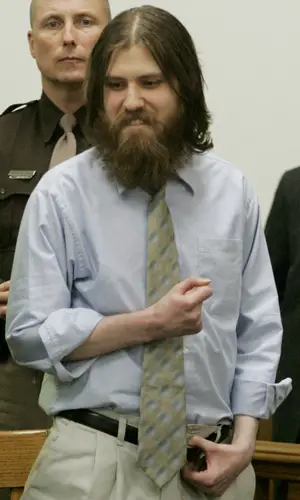 July 6, 2017
William Charles Morva has been executed by the state of Virginia on Thursday, July 6, 2017.  William was pronounced dead at 9:15 pm EDT, inside the execution chamber at the Greenville Correction Center in Jarrett, Virginia.  He was 34 years of age.  William was executed for murdering 32-year-old Derrick McFarland and 40-year-old Corporal Eric Sutphin in August of 2006, in Blacksburg, Virginia.  William spent the last nine years of his life on Virginia's death row.
According to those who knew William, his behavior changed following the death of Charles Morva, William's father, in 2004.  Prior to 2005, William was a drifter, having no permanent address, and was a self-proclaimed survivalist, who preferred to go without shoes, and often spoke of spending the nights in the woods. 
In 2005, William Morva was in jail awaiting trial on attempted robbery and firearms possession.  On August 19, days before his trial, Morva complained that he had sprained his ankle and injured his wrist and required medical treatment.  Morva was taken to a local hospital the following morning.  Due to his alleged wrist injury, waist chains were not utilized.  
Sheriff's Deputy Russell Quesenberry accompanied Morva to the hospital.  While walking, Quesenberry noticed that Morva's limping (due to his alleged injured ankle) was sporadic and seemed to completely disappear at times.  Additionally, Morva continually tried to walk on the right side of Deputy Quesenberry, despite requests to stay to the left.  Deputy Quesenberry wore his firearm on his right side.
After being treated, Morva requested to use the bathroom.  Inside the bathroom, Morva removed the metal toilet paper holder, which was screwed to the wall, and used it to strike Deputy Quesenberry.  Deputy Quesenberry suffered a broken nose, a fractured face, and was knocked unconscious.  Morva stole Deputy Quesenberry's gun and ensured that it was ready to fire prior to exiting the bathroom.  Deputy Quesenberry survived his injuries.
While attempting to leave the hospital, Morva encountered hospital security guard Derrick McFarland, who was unarmed.  Derrick faced Morva with his hands out to his sides, in a gesture of surrender.  Morva pointed the gun at Derrick's face and shot him from a distance of approximately two feet.  He then fled the hospital, firing five shots into the electronic door when it refused to open.  Derrick died from his injuries.
The following morning, Morva was seen near "Huckleberry Trail," a paved path near Virginia Tech for walking and bicycling, and was reported to the police.  Sheriff's Corporal Eric Stuphin responded to call.  Corporal Stuphin was in uniform and armed when he responded.  A witness heard shooting and then saw Corporal Stuphin fall to the ground.  Another officer, Brian Roe, quickly arrived at the scene and discovered Corporal Stuphin's body.  He had died from a gunshot wound to the back of the head.  His weapon was still in its holster with the safety strap engaged.  Officer Roe confiscated Corporal Stuphin's gun and continued searching for Morva.  
Morva was found later that day by Officer Ryan Hite.  At his arrest, Morva claimed to be unarmed, although the weapon he had stolen was found next to him.  Morva was convicted and sentenced to death in 2008.  
Please pray for peace and healing for the families of Derrick McFarland and Eric Stuphin.  Please pray for Russell Quesenberry.  Please pray for strength for the family of William Morva.