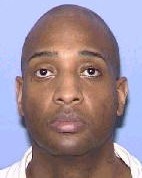 July 27, 2017 
Taichin "Box" Preyor was executed by the state of Texas on Thursday, July 27, 2017.  He was pronounced dead at 9:22 pm CDT, inside the Walls Unit Execution Chamber at the Huntsville State Penitentiary in Huntsville, Texas.  Taichin's execution was delayed several hours due to appeals.  He was 46 years of age.  Taichin was convicted of the murder of 24-year-old Jami Tackett on February 26, 2004, in Bexar County, Texas.  Taichin has spent the last 12 years of his life on Texas' death row.
Prior to his arrest, Taichin worked as a truck driver and a laborer.  He did not graduate high school, dropping out after the 10th grade.  In 1999, Taichin was arrested and served time for a drug offense in Syracuse, New York.  After being released from prison, Taichin moved to San Antonio, Texas, where he was later joined by his wife and children.  Police had previously been called to the residence for a "family violence call."  Taichin's brother was one of the police officers who responded to the call.
During the early morning hours of February 26, 2004, at approximately 4 am, Taichin Preyor broke into the apartment of his ex-girlfriend, Jami Tackett, by breaking down the door.  Preyor went to Jami's bedroom, where he jumped on the bed and began attacking her with a knife.  He also stabbed Jami's new boyfriend, Jason Garza, who fled the apartment, going to a neighbor and asking them to call the police.
During the fight, Preyor lost his car keys, leaving him unable to flea the scene.  Preyor searched the apartment while Jami lay on the floor, struggling to breathe.  As he attempted to leave the building for a second time, Preyor encountered the police.  The police were forced to use pepper spray to subdue Preyor, who refused to comply with their demands.  Preyor was covered in blood when he was arrested.
Jami died from her injuries before paramedics arrived on the scene.  Jason survived his injury.
During his trial, Preyor attempted to argue that his actions that morning were self defense.  Prosecutors argued that the door being broken down indicates that Preyor was the aggressor.
Please pray for peace and healing for the family of Jami Tackett and for Jason Garza.  Please pray for strength for the family of Taichin Preyor.