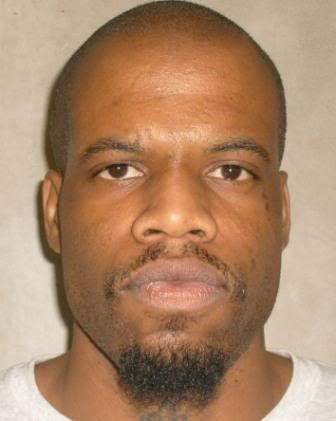 Update: April 24, 2014 7:00 pm EDT
Clayton Darrell Lockett is scheduled to be executed at 6 pm CDT, on Tuesday, April 29, 2014, at the Oklahoma State Penitentiary in McAlester, Oklahoma. Thirty-eight-year-old Clayton is convicted of murdering 19-year-old Stephanie Michelle Nieman on June 3, 1999, in Perry, Oklahoma. Clayton has spent the last 13 years of his life on Oklahoma's death row.
Clayton's story is a sad one, beginning with his mother allegedly using drugs while pregnant with him. She then abandoned him at the age of three, which devastated him and caused him to become extremely attached to his father, whom he idolized. Unfortunately, his father was a poor role model. He physically abused Clayton and forced him into using drugs at a young age. He encouraged sexually activity and frequently watched pornographic movies in front of him. Clayton's father also taught him and encouraged him to steal, punishing Clayton if he got caught. Extended family members testified that they believe Clayton was sexually abused by his older brother. Allegedly, while Clayton was incarcerated at an adult correctional facility at the age of 16, he was raped by several older men.
Around 10:30 pm, on June 3, 1999, Clayton Lockett, Shawn Mathis and Alfonzo Lockett broke into the home of Bobby Bornt. Bobby was asleep on his couch. Upon entering, the three began to beat and kick Bobby. Bobby recognized Clayton, who was carrying a shotgun. Following his thrashing, Bobby's hands were secured behind him using duct tape. He was also gagged. Clayton, Shawn, and Alfonzo proceeded to search the house, looking for drugs.
During the search, Bobby's friend, Summer Hair, approached his door, which had been left open. One of the men pulled her inside, hit her in the face, and threw her against the wall. Summer was then ordered to call her friend, Stephanie Neiman, who was sitting outside in her pickup truck. When Stephanie entered the residence, she was hit several times and ordered to hand over her keys and the code to disarm the alarm on her pickup.
All three victims were placed in the bedroom of Bobby's nine-month-old son. Alfonzo forced Summer to perform oral sodomy on him before he raped her. When he was done, all three victims had their hands secured behind their backs and tape placed across their mouths. Shawn was told to go and look for a shovel in the garage. After returning with the shovel, Clayton, Bobby, and Bobby's son got into Bobby's pickup. Shawn, Alfonzo, Summer, and Stephanie got into Stephanie's pickup.
Clayton led the way, taking the group to a rural area in Kay County. They stopped along a country road, where Clayton forced Summer to get out of the truck. Clayton raped her and forced her to perform oral sex on him. Summer was returned to the vehicles where she was forced to perform oral sex on Shawn. Shawn was then instructed by Clayton to dig a hole. Stephanie was then taken to the hole and shot by Clayton. The gun jammed and Clayton returned to the vehicles to fix it. During this time, the Bobby and Summer could hear Stephanie screaming and crying. After Clayton fixed the gun, he returned to the hole and shot Stephanie again. Clayton then ordered Shawn and Alfonzo to bury her, even though she was still alive.
Summer, Bobby, and Bobby's son were then returned to Bobby's house. They were warned that if they told anyone what had happened, they would also be killed. Summer and Bobby went to the police the following day. The police recovered Stephanie's body, and arrested Clayton, Shawn, and Alfonzo. Clayton eventually confessed to killing Stephanie, claiming that he chose her because she threatened to go to the police.
In addition to receiving the death penalty for the murder of Stephanie, Clayton also was convicted of conspiracy, first-degree burglary, three counts of assault with a dangerous weapon, three counts of forcible oral sodomy, four counts of first-degree rape, four counts of kidnapping, and two counts of robbery by force and fear. He was sentenced to a total of 2,285 years and 90 days in prison. Shawn Mathis and Alfonzo Lockett were each sentenced to life in prison.
Clayton's execution was originally scheduled for Thursday, March 20, 2014, but the execution was delayed until April 22, 2014, when the pharmacy from which the Oklahoma Department of Corrections arranged to purchase the execution drugs unexpectedly backed out. Oklahoma has since revised their execution policy, allowing for five different lethal injection methods of executions. Oklahoma plans to use a combination of midazolam, pancuronium bromide, and potassium chloride for Clayton's execution, which was purchased from a non-compounding pharmacy.
In the months leading up to Clayton's execution, a case he filed, along with fellow death row inmate Charles Frederick Warner, regarding the secrecy surrounding the state's execution drugs bounced between several courts.It reached a peak during the days leading up to his April 22, 2014, execution.Ultimately, the Oklahoma Supreme Court ruled that they were not entitled to know from where the execution drugs were procured.Click here for more information surrounding this case.
Please pray for peace for the family of Stephanie. Please pray for peace and healing for Summer, Bobby, and their families. Please pray for strength for the family of Clayton Lockett. Please pray that Clayton may come to find peace through a personal relationship with Jesus Christ, if he has not already.
Scroll