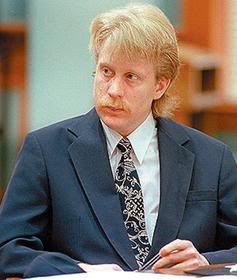 Updated: Tuesday, March 20, 2018  8:01 pm EDT
The Supreme Court of the United States has, by a vote of 5-4, granted a stay of execution to Russell Earl Bucklew.  The stay was granted shortly after his execution was scheduled to begin.  The stay was granted in order to allow the court more time to consider his appeal.
Updated: Monday, March 19, 2018  11:20 am EDT
Russell Earl Bucklew is scheduled to be executed at 6 pm CDT, on Tuesday, March 20, 2018, at the Eastern Reception, Diagnostic and Corrections Center in Bonne Terre, Missouri.  He has been granted a stay of execution.  Forty-nine-year-old Russell is convicted of killing 27-year-old Michael Sanders on March 21, 1996, at Hickory Hollow trailer park in Cape Girardeau County, Missouri.  Russell also kidnapped, beat, and raped 21-year-old Stephanie Pruitt.  Russell has spent the past 14 years on Missouri's death row.  
Russell Bucklew, a former electrician, met Stephanie Pruitt in the summer 1995, while she was married to another man, with whom she had two children.  By fall of 1995, Stephanie was divorced and dating Bucklew, whom she knew as Rusty.  Around Christmas, Stephanie discovered she was pregnant, however, she lost the baby on Valentine's Day and the relationship between Stephanie and Bucklew was over.  Stephanie claims they broke up and Bucklew moved back into his parent's house.  Bucklew said they just needed a few days apart to cool off.  
When Bucklew returned, he discovered that Michael Sanders was now living with Stephanie in Bucklew's trailer.  Bucklew was furious and put a knife to Mike's throat, telling him to get out or he would kill him.  Stephanie moved in with Mike a few days later.  
Stephanie and Bucklew had another confrontation when she retrieved some of her clothes from Bucklew's trailer.  Stephanie, chained to a bed, agreed to meet Bucklew on March 21, 1996, and leave with him.  Bucklew let her go.  On March 21, 1996, Bucklew, after stealing guns, handcuffs, duct tape, and a car from his cousin, secretly followed and watched Stephanie all day.  His goal was to catch her with Mike.  When he saw return to Mike's trailer, he decided that she was not going to meet him and decided to kill Mike and kidnap her.  
Bucklew knocked on the door of Mike's trailer.  Six-year-old John Michael and 4-year-old Zach were playing Super Nintendo when they heard the knock.  John Michael unlocked the door, at which time, Bucklew kicked the door in.  He was armed with a .40 caliber semi-automatic handgun, a .22 caliber revolver, extra ammunition, and holsters for the guns which were strapped to his body, two knives, two sets of handcuffs, a pair of rubber gloves, and a roll of silver duct tape.  
Michael exited the bedroom where he had been talking with Stephanie about Bucklew.  Stephanie's father had loaned them a shotgun, but Michael barely knew how to use it.  Nonetheless, he took it with him to confront Bucklew.  Michael ordered his kids to the bedroom.  Bucklew, furious that Michael had a weapon, shot Michael four times.  All four bullets passed through the body.  
Bucklew handcuffed Stephanie and took her with him.  While handcuffing Stephanie, John Michael ensured that he and his brother were hiding.  After hearing Bucklew drive away, the kids remained hiding for a time before emerging.  John Michael and Zach were with their father as he died.  John Michael later testified and identified Bucklew as the man who killed his father.  
Bucklew forced Stephanie to perform several sexual acts, eventually raping her.  Bucklew, with Stephanie in the vehicle, later got into a high speed chase with the police, which ended with him being shot and captured.  
Three months later, before Bucklew went to trial, he escaped from prison by hiding in a garbage bag.  A manhunt for Bucklew began as soon as correctional officers realized he was missing.  Once again, it ended after a high speed chase.  This time, though, he did not shoot back: he raised his arms and surrendered.  
Russell Bucklew was tried, convicted, and sentenced to death for his crime.  
Russell was previously scheduled to be executed in 2014, however his executed was stayed by the 8th Circuit Court of Appeals and then by the Supreme Court of the United States, when the 8th Circuit lifted their stay.  The stay was granted over concerns about the possibility of Russell's 8th Amendment rights being violated due to his rare medical condition.  According to Russell, he has a congenital condition that causes blood vessels to weaken and be malformed, and tumors to form in his nose and throat.  He argued that this could lead to the lethal injection drugs not being circulated properly, leading to pain and suffering.  The condition also causes his airway to shrink, which could cause Russell to suffocate.  He also claims to have constant pain in his face, which requires pain medication every six hours.  Russell fears he will have a prolonged and painful death.  Missouri argued against a stay of execution, noting that Russell has previously had surgery with the use of anesthesia without any problems.  
Please pray for peace and healing for the children, now adults, who witnessed this horrific event.  Please pray for peace and healing for the family of Mike Sanders.  Please pray for peace and healing for the family of Stephanie, who was murdered on June 8, 2009, by her husband.  Please pray for strength for the family of Russell.  Please pray that if Russell is innocent, lacks the competency to be executed, or should not be executed for any other reason that evidence will be presented prior to his execution.  Please pray that Russell will come to find peace through personal relationship with Jesus Christ, if he has not already.  
Scroll