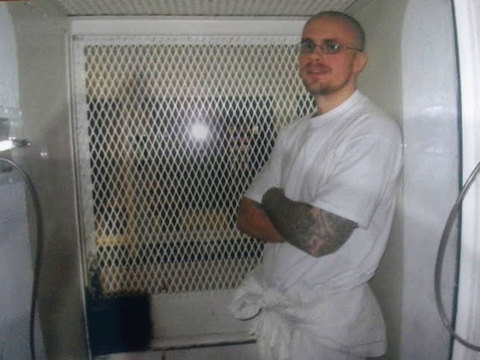 Updated: Thursday, October 12, 2017  7:59 pm EDT
Texas has executed Robert Pruett.  Read more here.
Updated: Thursday, October 12, 2017  6:29 pm EDT
The Supreme Court of the United States has rejected a request to halt the execution of Robert Pruett.  
Updated: Thursday, October 12, 2017  11:59 am EDT
The Texas Board of Pardons and Paroles has rejected a clemency petition from Robert Pruett.  Robert and his attorneys have also asked Texas Governor Greg Abbott to issue a stay of execution and commute Robert's sentence to life in prison.  Governor Abbott has not yet responded to the request.  Robert has also appealed to the Supreme Court of the United States.
Updated: Tuesday, October 10, 2017  10:52 am EDT
The 5th US Circuit Court of Appeals has rejected a request by Robert Pruett to stay his execution.  Robert and his attorneys argued that recent evidence would have prevented a jury from handing down a death sentence, that forensic evidence used during his trial has since been proven false, that the prosecution withheld evidence from the defense during the trial, and that the state failed to properly preserve evidence.  The 5th Circuit Court rejected all arguments.
Updated: Monday, October 9, 2017  11:20 am EDT
Robert Lynn Pruett's execution is scheduled to occur at 6 pm CDT, on Thursday, October 12, 2017, at the Walls Unit of the Huntsville State Penitentiary in Huntsville, Texas.  Thirty-eight-year-old Robert was convicted of killing 37-year-old correctional officer Daniel Nagle, on December 17, 1999, while Robert was serving a life sentence at the McConnell Unit in Beeville, Texas.  Robert has spent the last 16 years of his life on Texas' death row.
Robert grew up poor, often going hungry.  He and his family frequently moved while he was a child.  Robert was friends with gang members and frequently used drugs and alcohol while growing up.  His mother worked hard and his father was gone during the early years of his life.  Eventually they got back together.  As a teenager, Robert and his friends began stealing from people's houses.  During one of these robberies, when Robert was 15, he and his friends were caught by a neighbor.  They fled the house and attempted to hide their stolen goods, including rifles.  Robert was caught and sent to a juvenile detention center.  Robert returned home on a very strict parole and warned to not get in any more trouble.  
Upon returning home, Robert was informed by his friends that his neighbor, Ray Yarborough, had taken one of the guns he and his friends had stolen.  Robert, who did not like Ray, asked for the weapon back.  Ray denied having the weapon.  The two argued but did not resolve the problem.  Robert informed his brother and father about the argument.  They all agreed to do nothing so as to not stir up trouble.  
On August 9, 1995, just a few weeks shy of Robert's 16th birthday, Ray, who lived in a trailer across from Robert, came home drunk.  His dog had escaped and, while attempting to catch it, he yelled obscenities and threatened to beat it.  Robert, who was unaware of the escaped dog, thought Ray was yelling at him.  Robert awakened his father and brother and all three went outside to confront Ray.  Robert, the first one outside, attacked Ray.  Robert's brother came outside next and began fighting with Ray.  The two of them ended up in some trees, where Robert's father went after them.  Robert claims he stayed with the group who had gathered.  Robert's father and brother emerged from the woods with blood on their clothing.  The three fled.  They were later arrested and all were charged with Ray's murder.  Robert's father eventually confessed to stabbing Ray and killing him.  He testified that although his boys were with him during the murder, they did not partake.  He received a life sentence.  Robert's brother, who was 25 at the time of the murder, received a 40 year sentence.  Robert, who was tried as an adult, received a 99 year sentence.