Update: February 18, 2014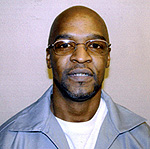 Last week, Michael Taylor and his attorneys filed a lawsuit to stop an Oklahoma compounding pharmacy from supplying the drugs to Missouri for his upcoming execution.They were successful when U.S. District Judge Terrence Kern banned the pharmacy from selling the drugs to the Missouri Department of Corrections.In a sealed statement, the pharmacy has agreed not to sell the drugs to Missouri for the upcoming execution.The pharmacy also acknowledged that they had not already supplied the drugs.The lawsuit by Michael and his attorneys came after the execution of Oklahoma inmate Michael Lee Wilson, who reported said "I feel my whole body burning," less than 20 seconds after being injected with a lethal dose of pentobarbital.According to the lawsuit, Michael's statement is consistent with the receipt of a contaminated dose.Missouri Governor Jay Nixon has stated that Missouri is prepared to carry out Michael's execution as scheduled, without making any significant changes to the execution protocol.He declined to comment on the drug Missouri plans to use for the execution.According to Missouri state law, the execution team, which includes those who provide the execution drugs, are classified as state secrets.
February 9, 2014
Michael Anthony Taylor's execution is scheduled for shortly after midnight CST, on February 26, 2014, at the Eastern Reception, Diagnostic and Corrections Center in Bonne Terre, Missouri.Forty-seven-year-old Michael is convicted of kidnapping and murdering 15-year-old Ann Harrison on March 22, 1989.Michael has spent the last 22 years on Missouri's death row.
On the evening of March 21, 1989, Michael Taylor and his friend Roderick Nunley used crack cocaine and then decided to steal a car.  Around 7 am on March 22, Taylor and Nunley, who was driving, spotted Ann Harrison waiting for her school bus.  Taylor allegedly told Nunley that he wanted to steal the girl's purse.  Nunley stopped the car and Taylor exited, spoke to the girl, grabbed her, and forced her into the car.  Nunley drove all three of them to his mother's house.
Once at Nunley's mother's house, they forced Ann out of the vehicle and forced her to crawl down to the basement, where Taylor raped her and Nunley assisted by providing lubricant.  After raping her, they tied her up and put her in the trunk of the stolen vehicle.  Fearing that Ann would be able to identify them, Taylor and Nunley decided to kill her.  After retrieving two knives from the kitchen, Taylor and Nunley stabbed Ann a total of ten times and left her to die.  It took approximately 30 minutes for Ann to die from her wounds.
After killing Ann, Taylor and Nunley drove the stolen vehicle to a nearby neighborhood and left it, with Ann still in the trunk.
Taylor and Nunley both confessed to the crime and each was convicted and given a death sentence.  Nunley remains on death row.
Please pray for peace for the family of Ann Harrison.  Please pray for strength for the family of Michael Taylor.  Please pray that Michael may come to find peace through a personal relationship with Jesus Christ, if he has not already found one.
Scroll