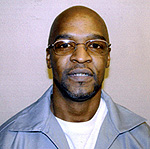 Update: February 25, 2014, 10:20 pm
Missouri Governor Jay Nixon has announced that he will not grant clemency to Michael Anthony Taylor.  Michael is scheduled to be executed in a few hours, however, he still has appeals pending before a federal court and the Supreme Court of the United States.

Update: February 25, 2014, 8:22 pm

The 8th Circuit Court of Appeals has denied to hear Michael Taylor's case before the entire court.  The ruling by the three-judge panel will stand.

Update: February 25, 2014
An appeal by Michael Taylor to have his execution stayed has been denied by the three-judge panel of the 8th Circuit Court of Appeals.Michael is expected to appeal the decision to the full 8th Circuit Court of Appeals.Missouri Governor Jay Nixon is also considering a request for clemency.Michael has a request before the Supreme Court of the United States, asking that they consider his case.He has asked the Missouri Supreme Court to stay his execution until the Supreme Court of the United States issues their decision.
February 23, 2014
Michael Anthony Taylor is scheduled for execution at 12:01 am CST, on February 26, 2014, at the Eastern Reception, Diagnostic and Corrections Center in Bonne Terre, Missouri.  Forty-seven-year-old Michael is convicted of the kidnapping, rape, and murder of 15-year-old Ann Harrison on March 22, 1989.  Michael has spent the last 22 years of his life on Missouri's death row.
On the evening of March 21, 1989, Michael Taylor and his friend, 22-year-old Roderick Nunley got together and smoked crack cocaine.  They then decided to steal a car and just drive around, which included evading police who tried to pull them over for a broken tail light.  Around 7 am on March 22, Taylor and Nunley, who was driving, spotted freshman Ann Harrison in the driveway of her home, waiting for the school bus.  Taylor allegedly told Nunley that he wanted to steal the girl's purse.  Nunley stopped the car and Taylor exited, spoke to the girl, grabbed her, and forced her into the car.  Nunley drove all three of them to his mother's house.
Once at Nunley's mother's house, they forced Ann out of the vehicle and forced her to crawl down to the basement, where Taylor raped her and Nunley assisted by providing lubricant.  After raping her, they tied her up and put her in the trunk of the stolen vehicle, saying they were going to call her parents for ransom money.  They never called her parents.  Fearing that Ann would be able to identify them, Taylor and Nunley decided to kill her.  After retrieving two knives from the kitchen, Taylor and Nunley stabbed Ann a total of ten times and left her to die.  It took approximately 30 minutes for Ann to die from her wounds.
After killing Ann, Taylor and Nunley drove the stolen vehicle to a nearby neighborhood and left it, with Ann still in the trunk.  It was days before Ann's body was discovered.
Taylor and Nunley both confessed to the crime, although neither confessed to raping Ann and each pointed the finger at the other.  They were each was convicted of murder and given a death sentence.  DNA testing later showed Taylor was the one to rape Ann.  Nunley remains on death row.
Due to the difficulty in buying execution drugs, Missouri has turned to a compounding pharmacy in order to obtain drugs for use in executions.  Missouri, for recent executions, used a pharmacy in Oklahoma to obtain the drugs.  Following a lawsuit by Michael Taylor, citing that the drugs could cause prolonged pain and discomfort during the execution, US District Judge Terence Kern banned Missouri from buying execution drugs from that pharmacy.  The pharmacy agreed to not sell the drugs and confirmed that they had not already supplied the drugs for Michael's execution.  Missouri has announced that the state is prepared to carry out Michael's execution and that the state has found another pharmacy from which to obtain the execution drugs.  Michael and his attorneys are now arguing that the state should not be allowed to switch pharmacies so close to the execution.  The state says it should be allowed, since they were they reason that they had to switch to a different pharmacy.
Please pray for peace for the family of Ann Harrison.  Please pray for strength for the family of Michael Taylor.  Please pray that Michael may come to find peace through a personal relationship with Jesus Christ, if he has not already found one.