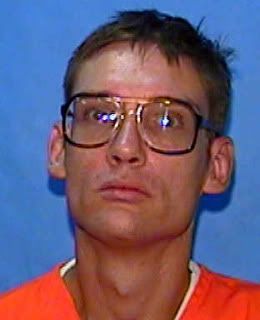 Update: July 10, 2014  6:55 pm EDT

Eddie Davis was executed by the state of Florida.  Read the full story here.
Update: July 7, 2014  3:58 pm EDT

Eddie Wayne Davis is scheduled to be executed at 6 pm EDT, on Thursday, July 10, 2014, at the Florida State Prison near Raiford, Florida.  Forty-five-year-old Eddie is convicted of kidnapping, raping, and murdering 11-year-old Kimberly Waters on March 4, 1994, in Lakeland, Florida.  Eddie has spent the past 20 years on Florida's death row. 
On the night of March 3, 1994, Eddie Davis was drinking heavily.  Around 2 am on March 4, 1994, when he ran out of money and alcohol, he went to the trailer behind him, the trailer of his ex-girlfriend Beverly Schultz, with the intention to obtain additional funds for beer.   Beverly had left her two children, 11-year-old Kimberly Waters and 13-year old Crystal Waters, home alone while she worked a double shift at a local nursing home. 
Davis spotted Kimberly sleeping in her mother's bed.  When she woke up and saw him, he placed his hand over her mouth, told her not to yell, and took her into the living room, where he gagged her.  Davis then took Kimberly back to his trailer where he proceeded to rape her.  Davis forced Kimberly to walk to the parking lot of nearby Moose Lodge, where he raped her again and hit her several times.  Davis then held plastic over her nose and mouth in an attempt to suffocate her.  Kimberly struggled and managed to rip the plastic, but not enough.  Davis held it over her nose and mouth until she stopped moving.  Davis placed her in a dumpster, where she was found later that morning. 
When first questioned by police, Davis denied any part in the kidnapping and murder of Kimberly.  Police found DNA evidence linking him to crime in a trailer of which he and his girlfriend had recently moved out.  After being presented with this evidence, Davis continued to deny his involvement.  Davis later confessed to the crime and implicated Beverly, Kimberly's mother, in the crime.  He later recanted that part of his testimony. 
At his trial, Eddie Davis claimed he was raised by an alcoholic father and was physically, emotionally, and sexually abused as a child.  He also alleged that he was too drunk on the night of March 3, 1994, to have the intent to commit murder.  Prior to his arrest for murder, Eddie was convicted for grand theft of a motor vehicle and three counts of burglary.  At the time of the murder he was on control release supervision, which prohibited the possession of alcohol and drugs, among other restrictions.
Eddie is asking to have his execution stayed because he may experience extreme pain and suffering due to a medical condition, porphyria, with which he has not officially been diagnosed.  Porphyria can cause sores on his skin and pain in his legs and feet, both of which Eddie testified that he had in the past.  Two doctors testified, with each offering different opinions, on whether porphyria would cause pain and suffering during the execution.  The Florida Supreme Court has rejected this appeal.
Please pray for peace for the family of Kimberly Waters.  Please pray for strength for the family of Eddie Davis.  Please pray that Eddie may come to find peace through a personal relationship with Jesus Christ, if he has not already.