Update: June 17, 2014 1:22 am EDT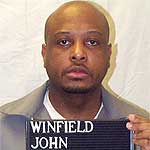 Shortly after midnight CDT, on Wednesday, June 18, 2014, John E. Winfield was executed by the state of Missouri. The execution occurred at the Eastern Reception, Diagnostic and Corrections Center in Bonne Terre, Missouri. John was 43 years of age. He was executed for the murder of Arthea Sanders and Shawnee Murphy on September 9, 1996, in St. Louis County, Missouri. John spent the last 15 years of his life on Missouri's death row.
As a child, John liked to collect comic books and played on a youth football team. From a young age, John allegedly was forced to be the "man of the house" and help take care of his family, which included babysitting his younger cousin.
John Winfield and Carmelita Donald began dating in 1989. The continued dating on and off until the spring of 1996. During their relationship, they had two children together and shared physical custody. In the late summer of 1996, Carmelita began dating Tony Reynolds. They worked to keep their relationship a secret from Winfield. On September 9, 1996, while Carmelita was out with Tony, Winfield repeatedly called her apartment and asked Melody, Carmelita's sister and roommate, for Carmelita's whereabouts. Melody said she did not know.
Winfield went to Carmelita's apartment to further question Melody. Arthea Sanders, a third roommate, told Melody where Carmelita was. Melody and Arthea decided to tell Winfield that Carmelita had gone to Arthea's parent's house, in the hopes that he would leave. Melody eventually went downstairs to their friend, Shawnee Murphy's apartment, where she called Arthea's parents to tell them the story. When Carmelita and Tony returned they noticed Winfield's car parked outside. They drove to Tony's cousin's house and persuaded the cousin to drive Carmelita home.
Winfield did not leave the apartment; instead he began "knocking over" furniture and became increasingly agitated. He also began making threats against Carmelita. Upon arriving, Carmelita was approached by Winfield who demanded to know how long she had been dating Tony. During their conversation, Arthea slashed the tires of Winfield's vehicle to prevent him from escaping. Arthea also instructed Melody to call the police, which Melody did not do. Arthea yelled outside asking if Carmelita was alright, to which she responded that she was fine. Melody and Arthea then heard a car door slam and assumed it was Winfield leaving.
Instead, Winfield ran into Shawnee's lower apartment, with Carmelita following. Carmelita yelled for Arthea to run because Winfield was armed and coming after her. Winfield entered the apartment of Shawnee, where Arthea and James, a guest visiting Shawnee, was. Winfield chastised Arthea for slashing his tires before shooting her in the head.
Winfield then walked outside and pointed the gun at Carmelita, who began pleading with him not to shoot her. Winfield shot her four times and returned to Shawnee's apartment. Shawnee was attempting to collect her children before escaping and pleaded with Winfield. He shot her in the head.
Winfield turned to James and said "You next." James began wrestling with Winfield for the gun, allowing Melody to escape and call the police. Winfield was later arrested at his home. Arthea and Shawnee died from their injuries. Carmelita survived her injuries, although she is permanently blinded.
Winfield was convicted and sentenced to death on September 18, 1998.
Please pray for peace and healing for Carmelita and for the families of Arthea and Shawnee. Please pray for strength for the family of John Winfield.
Scroll